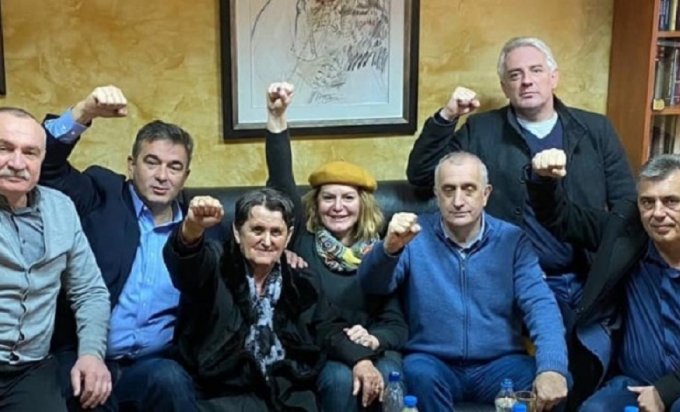 Ratka Knežević, mother of one of the leaders of the Democratic Front (DF), Milan Knežević, was released after a court hearing in Podgorica, where she was reportedly detained for disparaging police officers who searched their family home this morning. A misdemeanor trial will be instituted against Ratka Knežević for disparaging the police, her lawyer Dražen Medojević said.
Ratka Knežević, 68, the mother of one of the leaders of the Democratic Front, Milan Knežević, was arrested this morning for disturbing and disparaging police officers during a search of her apartment, the Police Directorate said.
Medojević said the search in Zeta was conducted in the early morning hours and that the search was conducted because of Milan's brother, Mirko.
The lawyer also said that Special Forces with the weapons entered the house of Ratka Knežević, who he said was alone in the house, under stress and visibly frightened. The lawyer also stated that Ratka was uttering certain words at that moment, which she could not remember later.
Medojević says Ratka Knežević did not disparage the police, but her words could be characterized as insults and curses.
"I asked for Ratka Knežević's medical expertise, for the expert witness to say whether a person in such circumstances, under stress, can control the situation and do something intentionally. The judge denied that. In my closing statements, I stated that what was stated was not disparaging of an officer, it could be characterized as an insult or possibly a curse", said lawyer Medojević.
"Montenegro is slipping into dictatorship and terror," DF MP Predrag Bulatović said.
"In this case, we recognize the state's provocations against the DF and the attempt to cause riots," Bulatović said, adding that the DPS leader and state president, Milo Đukanović, wants to involve the DF in everything; "to fight the litanies". Bulatović said DF would not allow it.
The DF MP called on all those who were against violence to join the litanies, he said.
Bulatović also said that this morning's action in Zeta was focused on DF, and that those predominantly arrested were activists.
DF MP Nebojša Medojević said a "landing on Zeta" was carried out this morning.
"The goal was to cause chaos. We urge all citizens, and DPS voters, to wonder where this is going", Medojević said, calling for unity.
"They cannot intimidate us", Medojević stressed, adding that the DF had requested immediate admission by the head of the Security Center.
He stated that there are para-police organizations.
"I urge every honourable officer to drop a uniform", Medojević concluded./ibna