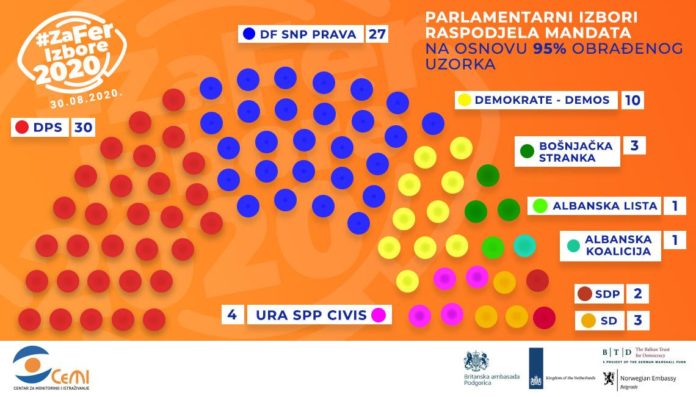 Although the vote count is still ongoing, opposition coalitions in Montenegro have declared a narrow victory in the parliamentary elections and, as they say, "the fall of the Milo Đukanović regime".
Officially, 76.68 percent of registered voters voted, of which 403,642 were valid ballots. According to the latest, preliminary data from the State Election Commission, based on 98.55 percent of the processed sample, the Democratic Party of Socialists won 35.12 percent, or 141,767 votes, and the coalition For the Future of Montenegro 32.52 percent (131,333).
The Coalition Peace is Our Nation won 12.55 percent (50,672), Black and White 5.57 (22,499), Social Democrats 4.09 (16,524), Bosniak Party 3.81 (15,387), SDP – Strong Montenegro 3.14 (12,674), Albanian List 1.61 (6,485), and the Albanian Coalition Unanimously 1.16 per cent (4,675).
The Croatian Civic Initiative won 0.27 (1,101), and the Croatian Reform Party 0.13 percent, or 525 votes, and according to these results of the SEC, they do not pass the threshold to gain parliamentary representation.
Such results still mean that opposition coalitions, which announced co-operation after the elections, have enough votes to form a parliamentary majority and elect a new Montenegrin government. Although the victory is narrow and the votes are still being counted, the opposition celebrated the victory on the streets of Montenegrin cities, but it was also celebrated on the streets of cities in the region where Serbs are a majority. Thus, many cities in Serbia, the Republika Srpska and even in the northern part of Kosovo witnessed the processions of citizens who, mostly, shouted the slogan "We will not give up the shrines".
This slogan originated from the struggle of the Serbian Orthodox Church in Montenegro against the Law on Freedom of Religion, which, as they claim, envisages that buildings and holy places in Montenegro be taken away from the Church and handed over to the disputed Montenegrin Orthodox Church, which is not recognized by the Ecumenical Patriarchate.
Representatives of the opposition coalition announced that the first job in the new Assembly would be to withdraw this law. However, they also face major problems, such as the continuation of the European path, cooperation with NATO and solving the problems caused by the COVID-19 pandemic, especially in the economic field. Anyone who comes to power in this situation will have more problems than any other government since Montenegro regained its independence until today.
Whatever the final results of the elections in Montenegro, Milo Đukanović, according to analysts, suffered the biggest defeat in almost thirty years of rule.
For now, he will remain in the position of the president of the state until the expiration of his mandate in 2023. Until then, much more can be changed./ibna