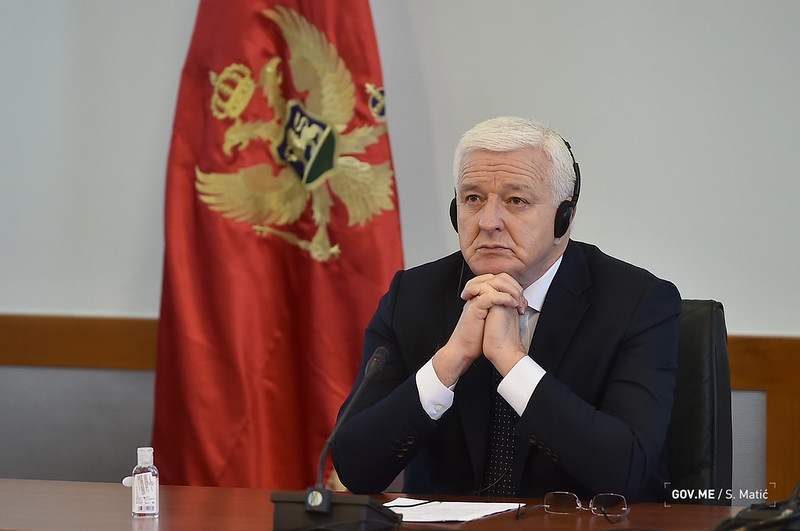 Montenegro Prime Minister Duško Marković spoke today with Austrian Federal Chancellor Sebastian Kurz, EU Commissioner for Neighbourhood Policy and Enlargement Oliver Varhelyi and Prime Ministers of the other Western Balkan countries. PM Marković said that the coronavirus pandemic is an opportunity to show unity and commitment to European values and principles, that Montenegro acts in that spirit and that is why it makes its ports available to the countries of the region.
"It is up to us, the leaders of the region, to set an example and make decisions as good neighbours. In this spirit, Montenegro, in addition to numerous measures to protect its citizens, has decided to make its ports available to countries in the region in order to ensure the flow of goods and to keep its borders open for trade and supply. With a full understanding of the need of all countries to help their citizens first, I believe that closing markets and economies, blocking resources and goods is not an expression of solidarity or of European values. In these moments, in the face of this difficult crisis, we need the European idea of unity more than ever", Marković said at a video conference.
Speaking about the process of European integration of the Western Balkan countries, he expressed satisfaction that the new Brussels administration had put the enlargement policy back in focus and that Croatia, which currently holds the EU Presidency, had included it in its priorities.
"We are pleased that the process is gaining a strong political and strategic dimension, which will contribute to a better and more dynamic integration. Ahead of the upcoming European Council, I would like to stress our expectation that North Macedonia and Albania will be given the green light for negotiations. Bosnia and Herzegovina's progress towards the European Union is also essential for the long-term stability of the region. It is up to us in the region to continue reforms and to act in a European way in addressing all issues, in the spirit of good neighbourly relations and cooperation", Marković stressed.
The Prime Minister of Montenegro informed his counterparts about his initiative "Alliance for Europe", saying that social dialogue is based on the principles of transparency and inclusiveness.
He also thanked Austria and the Federal Chancellor, as well as Croatia for their commitment to region.
"I am convinced that the messages we are sending today will be another contribution to emphasising the strategic importance of the region in the European project, both in terms of the Conference on the Future of the EU platform and the forthcoming EU-Western Balkans Summit", Marković concluded at the video conference with the Austrian Federal Chancellor, the EU Commissioner for Neighbourhood Policy and Enlargement and the leaders of the Western Balkan Six./ibna