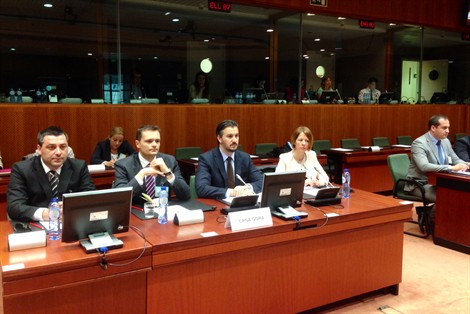 By Adnan Prekic – Podgorica
At the Intergovernmental Conference in BrusselsMontenegro has opened two more chapters in the negotiations with the European Union. Negotiations were opened in chapters seven and ten, relating to "Intellectual Property Rights" and the "Information Society and Media" respectively. Montenegro has already opened seven chapters of which Chapter 25 – Science and Research and 26 – Education and Culture, were temporarily closed.
The chief negotiator of Montenegro to the European Union, Aleksandar Pejovic, said in Brussels that Montenegro, after the opening of negotiations in the area of "​​rule of law", continues the negotiation process with a steady pace and progress in other areas too. The reason for addressing certain issues in this, as well as all other negotiating chapters, is not only aimed at the harmonization of the country's national legislation with EU regulations, but also to the gradual transformation of the entire Montenegrin society in one in which it will be possible to create new development opportunities for its citizens and businesses, said Pejovic.
Today they opened two new chapters: "Intellectual Property" and "Information Society and Media", and an action plan has been prepared, which will pave the way for the harmonization of Montenegrin legislation with the EU acquis. "The implementation of regulations in the field of intellectual property rights will significantly contribute to further strengthening of technological, scientific, cultural and overall social progress in Montenegro. I expect that by the end of 2015, with the adoption of new or amended existing legislation in this area, everything to be in full compliance with European regulations in this area", the chief negotiator said.
More demanding is Chapter 10 – "Information society and media" that will directly affect economic growth and employment. This area of domestic legislation will be harmonized with EU regulations and standards in the field of electronic communications, information society services and audiovisual policy, as well as their consistent implementation.
The ambassador of Greece to the EU, Theodoros Sotiropulos, and Director General for Enlargement, Christian Danijelson, announced that Montenegro is well advanced in the process of accession to the EU and that all previous achievements are the result of merit, energy and determination shown by the Montenegrin institutions and society as a whole. It is expected that the good pace will continue in the coming months and that Montenegro will soon be able to open additional negotiating chapters.
Montenegro has, for more than a year, provisionally closed negotiations in two and opened five chapters. Montenegro has so far opened seven chapters, some of which are temporarily closed 25 – "Science and Research" and 26 – "Education and Culture". They have opened the following chapters: 5 – "Procurement", 6 – "Corporate Law", 20 – "Enterprise and Industrial Policy", as well as chapter 23 – "Judiciary and Fundamental Rights", and 24 – "Justice, Freedom and Security".