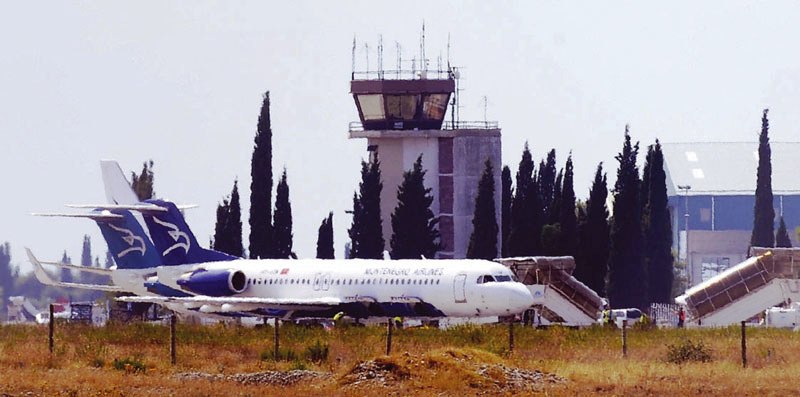 By Adnan Prekic – Podgorica
Poor connectivity air lines with the neighboring countries was the reason that the government of Montenegro requested from the national air carrier to consider the possibility of new air rootes to Croatia, FYR Macedonia, and Bosnia and Herzegovina. The Government believes that poor transport links with countries in the region affect the tourism industry, explaining that more flights mean that more tourists will come to Montenegro.
As the country is heavily depended on the tourism industry, with no highway, Montenegro's "window to the world" are the airports. Montenegro currently has scheduled flights with  Serbia, Slovenia and Turkey.
Flights towards and from Croatia have been canceled, while with other countries in the region Montenegro did not have a line connection at all.
The government has therefore suggested the national airline carrier, Montenrgro Airlines, to open direct routes to Croatia, FYR Macedonia, Bosnia and Herzegovina and Kosovo. It has also proposed to increase the number of flights to Serbia. In order to maximize the number of tourists from Serbia, Montenegro Airlines is planning to offer better fares for flights to Belgrade for weekdays and extended weekends (Thursday-Sunday). For this purpose Montenegro Airlines need to prepare special packages, which would be supported from the National Tourism Organisation of Montenegro.
During the summer season there is great interest for Montenegro by foreign airlines. These are mainly charter flights performed during the period July-September.
The government report on the state of air travel in Montenegro states that the capacity of the airport must be improved. It is also suggested to reduce airport services through a variety of benefits for airlines, particularly outside the main tourist season.
The government believe that the cheaper airport services out of season and new lines will contribute to the extension of the tourist season. As an example they mentioned the case of the airport in Dubrovnik, offering free landing and take-off during the winter schedule flight for all international scheduled flights. It is estimated that around 50,000 tourists a year are coming to Montenegro from this airport.
The government opened the Montenegrin airports for low-cost airlines, last year. They signed a contract with the airline Ryan Air for the period 2013-2016. Ryan Air performed 66 flights from June 20 to October 14. The completeness of flights was 84%, in the departure and arrival  they were transported over 10,000 passengers.
According to surveys conducted among travelers Ryan Air, the average consumption per passenger during their stay in Montenegro is €500. According to this calculation the total consumption of foreign tourists in Montenegro that traveled with this airline was €2.5mln.
The fleet of the national air carrier has eight aircrafts. Montenegro Airlines has a fleet of three Embraer 195, with a capacity of 116 seats and five Fokker, with the capacity of 108 seats.