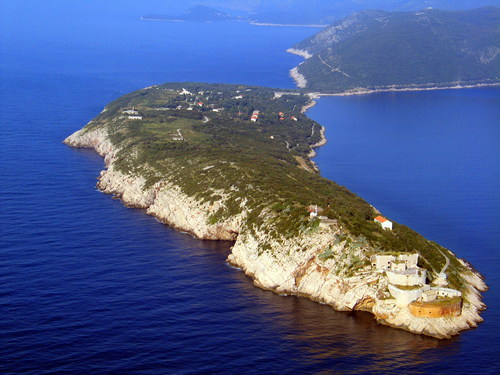 By Adnan Prekic – Podgorica
Potential oil and gas deposits in the Adriatic offshore again actualized the boundary problem between Montenegro and Croatia on the Prevlaka peninsula (photo). Croatia has issued a tender for oil and gas exploration in Prevlaka even though they had to obtain approval from Montenegro first. The Interim Agreement between the two countries on the border states that any activity on Prevlaka must be carried out in agreement between the two countries. Due to the announcement of the tender the montenegrin ministry of Foreign Affairs has officially filed a complaint against Croatia.
The border problem between Montenegro and Croatia dates since 1992. During the breakup of former Yugoslavia, the former JNA military and montenegrin police had occupied this part of Croatia and came close to Dubrovnik. Later there was a withdrawal and Prevlaka was placed under the control of the United Nations. The Interim Agreement was signed in 2002 and a disputed detail was the demarcation of borders on the sea. Due to the specific geographical location of Prevlaka, free maritime entrance to the Bay of Kotor in Montenegro is closed.
Croatia has published geographic maps that are offered to interested concessionaires for oil and gas exploration. Among others, the map includes Prevlaka. It is to this announcement that the montenegrin ministry of Foreign Affairs reacted. They recalled that the Protocol on the Provisional Regime of 2002 obliges the two neighboring countries to refrain themselves from unilateral actions that would prejudice the decision of the common border at sea and on land. Unilateral acts from Croatia calling public tenders in the southern part of the Adriatic is inconsistent with the Protocol, announced the montenegrin government.
Montenegro is not the only country that had objections to oil and gas exploration.  Slovenia has also objected to the tender in Croatia. Ljubljana claims that Croatia with the publication of the public tender for the concession of the exploration and exploitation of carbon dioxide in the Adriatic has prejudged the resolution of the maritime border.
The Croatian ministry of Foreign Affairs rejected the objections of Montenegro and Slovenia. Zagreb announced that the tender for oil and gas does not violate a single regulation.
Montenegro and Croatia do not have a permanently determined boundary on the Prevlaka peninsula in Herceg Novi, as well as on the waters of the southern Adriatic. Former Federal Republic of Yugoslavia and Croatia in 2002 signed a protocol on a temporary border regime in this area. Top officials of Montenegro and Croatia have repeatedly stated that the regime is working well, and that a permanent solution to the border should be found through negotiations or in the process of an international arbitration.