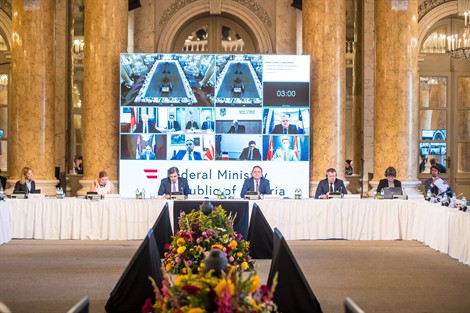 "Montenegro is resilient and committed to the challenge of managing migratory flows, and during the coronavirus pandemic the number of registered migrants decreased significantly", said State Secretary at the Montenegrin Ministry of Interior Dragan Pejanović during a ministerial video conference on illegal migration on the Eastern Mediterranean route, organized by the Republic of Austria.
"In the first quarter of this year, that is, before the pandemic, 1,400 migrants were registered. During the pandemic period, no cases of migrants seeking international protection were registered in the reception and accommodation centres, with the measures and recommendations implemented in the same way as for Montenegrin citizens", said Pejanović.
When it comes to specific activities, the Secretary of State stated that the container settlement near the border with Albania is expected to be commissioned soon, and thus the current capacities will increase by an additional 60 places. At the same time, there are plans to expand the existing Reception Centre, as well as for a new one to be built.
Pejanović also referred to the recently published Working Document of the European Commission on the situation around Chapters 23 and 24, in which Montenegro's commitment to managing migratory flows was especially recognized, which can be seen through significant budget investments provided for housing migrants.
"Montenegro is committed to fulfilling the obligations arising from the signed readmission agreements, and I believe that it is especially important to further strengthen the existing capacities, to which our country will be additionally committed during the one-year chairmanship of the MARRI initiative", he said.
When it comes to cooperation with the European Commission and the countries of the European Union and the Schengen zone, he stated that Montenegro, through a strategic and legislative framework, has accepted and implemented the highest standards in the field of asylum and border management.
"I believe that, after the Agreement between Montenegro and the EU on the status of activities carried out by Frontex, which entered into force on July 1 this year, this cooperation will be even more intensive, and will significantly affect the capacity of the Border Police", Pejanović said.
The State Secretary emphasized the full commitment of Montenegro, and above all the Ministry of Interior and the Police Administration, to continue supporting the further strengthening of coordination mechanisms, all levels and forms of cooperation that can contribute to improving border security and strengthening the migration management system.
The conference brought together representatives of EU member states, the European Commission and the countries of the Western Balkans. /ibna