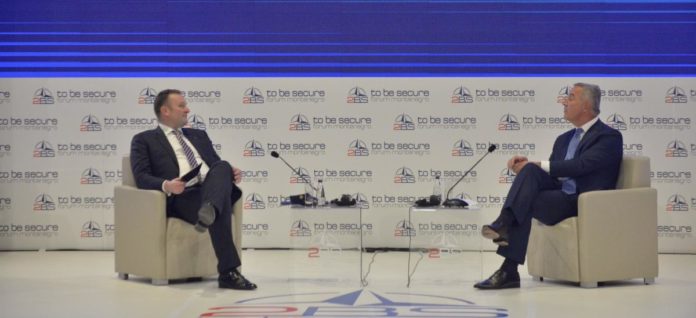 Montenegro can do well only if it continues on the European path, President Milo Đukanović stated, adding that an eye for an eye when it comes to turbulent nationalist tendencies is not a good choice.
Speaking at the 2BS Forum in Podgorica, he said Montenegro should bridge divisions, claiming that divided societies are dysfunctional from the beginning. Đukanović believes there is still a growing potential in Montenegro and the Western Balkans for a European future.
"It is not a good choice for Montenegro to respond to one boiling nationalism with another wave of nationalism. Montenegro can do well only if it continues on the European path," Đukanović said.
He believes it is time to redefine Montenegro's European platform as the most important for state policy, adding that he was satisfied with the new government announcing its commitment to the same foreign policy goals.
As he stressed, today Montenegro is ahead of other countries aspiring to clinch membership in the European Union (EU).
"Montenegro must continue to develop economically and with serious reforms, in order to improve the pace of further accession," Đukanović said.
He added that, regardless of the change in government, the strategic priorities of Montenegro remain.
Đukanović assessed that the world desperately needs NATO, adding that the message conveyed in the aftermath of the American elections is encouraging for all European and Balkan citizens.
"I would like to see Europe consolidate faster. I am not objecting, but we have had five years of a serious slowdown in that process. The Western Balkans need encouragement," Đukanović said.
He added that the new European Commission sent excellent messages representing very significant encouragements.
"Unfortunately, 2020 does not end in that spirit. There were no intergovernmental conferences for North Macedonia and Albania, nor visa liberalization for Kosovo," said Đukanović.
He concluded that he hoped the EU understood that without the integration of the Western Balkans, there could be no stability in Europe. /ibna