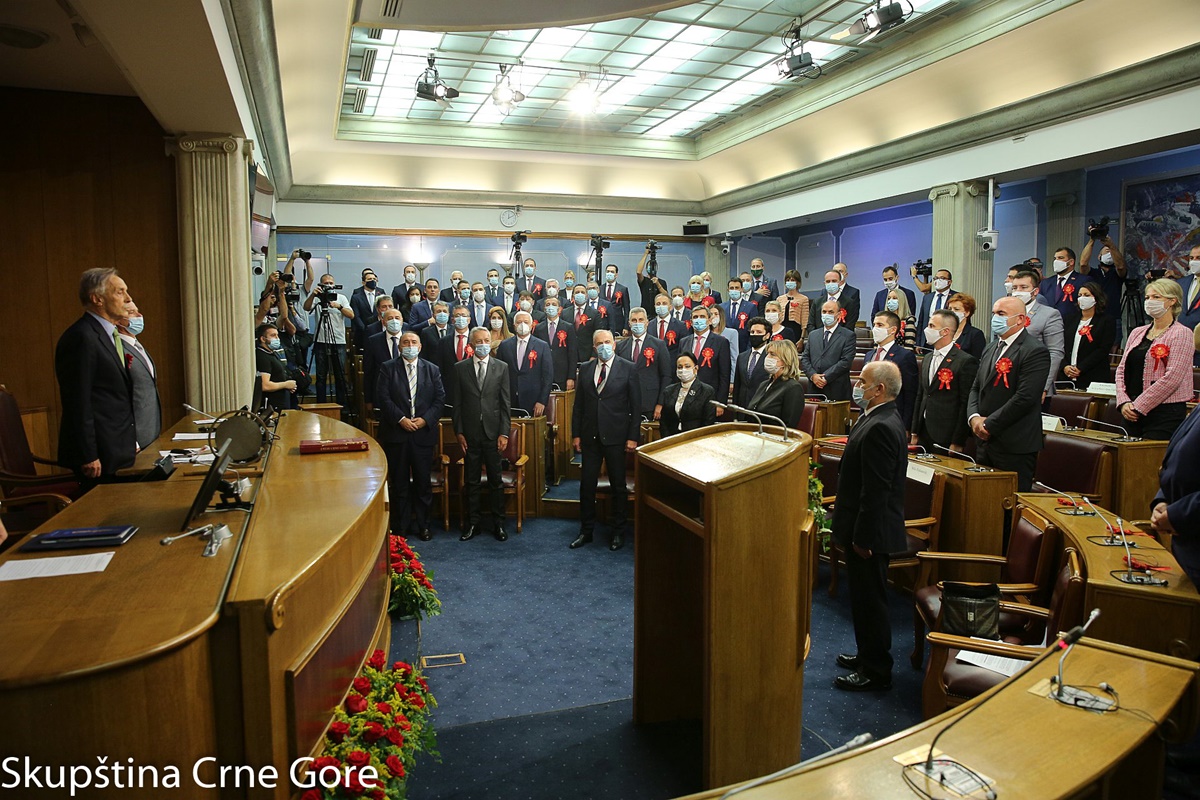 All deputies of the new parliamentary majority in the Parliament of Montenegro endorsed the leader of the coalition "For the Future of Montenegro" Zdravko Krivokapić for the post of prime minister-designate in the new Montenegrin Government, as the Democratic Front, Democratic Montenegro and the Civic Movement URA announced. The deputies of the Montenegrin Assembly must vote on that proposal, after they confirm the appointment of Aleksa Bečić as the President of the Assembly.
Today's constitutive session of the Parliament of Montenegro was chaired by the oldest MP Miodrag Lekić, and the mandates of 81 deputies have been verified. Some members of the Democratic Front did not attend the intonation of the national anthem. President Milo Đukanović was not present at the session.
Opposition leaders published photos of the document with signatures and a request to President Milo Djukanovic to nominate Krivokapic for prime minister.
Earlier, the Democratic Front proposed that the leader of the coalition "Peace is our nation", Aleksa Bečić, be the president of the Assembly, and Krivokapić the prime minister-designate of the future government.
"We are not interested in armchairs, we are only interested in the future of Montenegro and its people", said DF MP Milan Knezevic at today's constitutive session of the Assembly.
The leader of the "Black and White" coalition Dritan Abazović said the DF's proposal was absolutely acceptable for that coalition, and said that he would remain a "man of his word".
When asked whether an expert government would be formed, Krivokapic answered that the reality is that certain concessions should be made.
"The first principle of the new government's action will be to organize the state – we will not take revenge and no one's interest is important except the interests of the citizens", Krivokapic said addressing the journalists in the Assembly.
He said that the democratic change of government took place in Montenegro for the first time in the August 30 elections, and that he did not want "anyone to be defeated".
"If someone thinks that the freedom they got is small, I don't know what is big. Montenegro is the country that belongs to all of us. The interest of the people is important, but we all have to contribute … We need to build Montenegro, which will be a bright example to everyone in the area. The process is not easy and simple", stated Krivokapić.
The obligation of the new government is to make Montenegro look like Luxembourg, which has zero tolerance for corruption, he said. /ibna