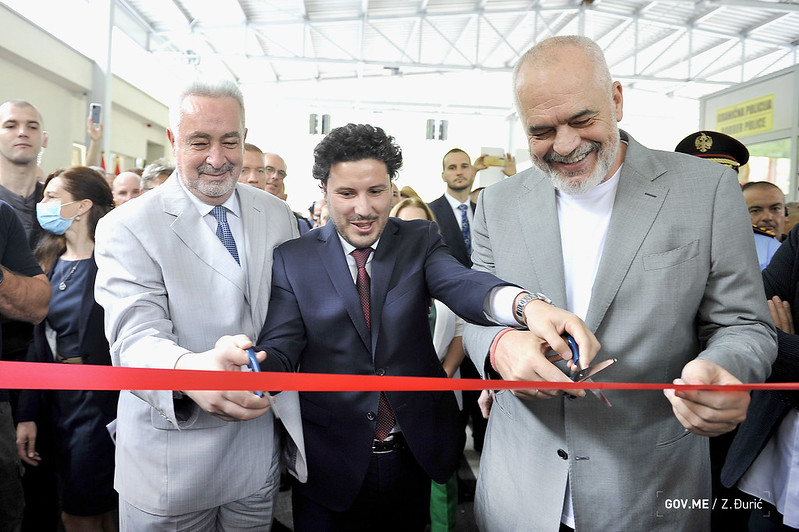 The Prime Minister of Montenegro Zdravko Krivokapić and the Prime Minister of the Republic of Albania Edi Rama opened a joint border crossing, Zatrijebačka Cijevna – Grabon between Montenegro and the Republic of Albania in the presence of Herman Špic, Chargé d'Affaires of the EU Delegation to Montenegro.
This border crossing was built in 2017 with the support of the European Union within the IPA cross-border cooperation program Montenegro – Republic of Albania, with the aim of connecting Podgorica and Gusinje through the territory of the Republic of Albania. The construction works cost around 720,000 euros, of which the European Union provided almost half a million euros.
The opening of this joint border crossing with the Republic of Albania is aimed at the comprehensive valorization of tourist, economic and economic resources of both countries. By joint implementation of border procedures by the police and customs of Montenegro and the Republic of Albania, the crossing of the state border will be simplified and accelerated by the principle of one stop, resources will be used more rationally, transport costs will be reduced in the spirit of CONNECTA Transport Community Project implementation. more effectively prevent and detect all forms of cross-border crime.
Montenegro now has three common border crossings, two with the Republic of Albania and one with Bosnia and Herzegovina, namely: Sukobin – Murićani, opened in 2009 and Vraćenovići-Deleuša, opened in 2020.
The Government of Montenegro owes special gratitude to the European Union for its assistance and support in the construction of border infrastructure, achieving partnership, mutual trust and joint responsibility for border security, as a condition of internal security and part of the overall security system.
The ceremony was attended by the Deputy Prime Minister of Montenegro Dritan Abazović, Minister of the Interior Sergej Sekulović, Minister of Foreign Affairs Đordje Radulović, Acting Director of the Police Administration Zoran Brđanin, Acting Director of the Revenue and Customs Administration Aleksandar Damjanović, Minister of Internal Affairs of Albania, Bledi Cuci, Ambassador of the Republic of Albania to Montenegro Ridi Kurtezi, Director of the Albanian Police Ardi Veliu, as well as Director General for Customs Genti Gazheli.