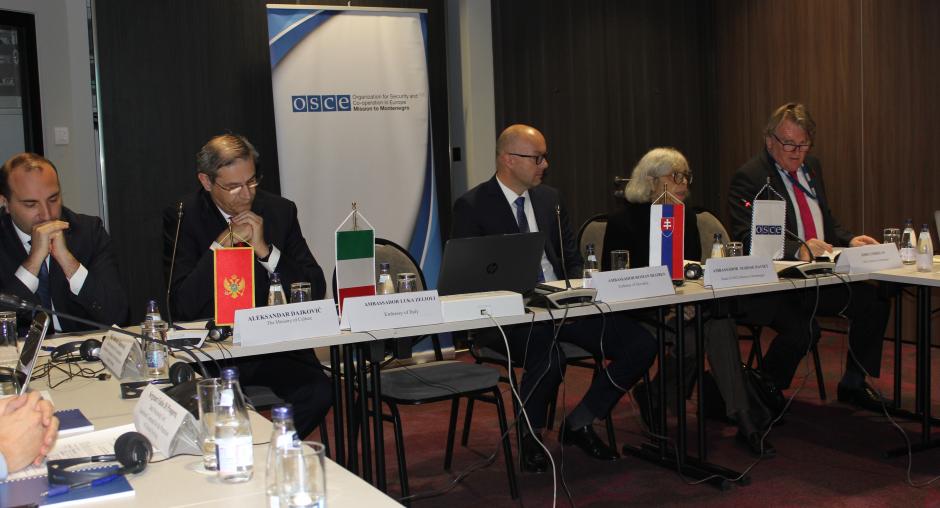 Protection of cultural heritage by creating cultural property databases to prevent trafficking in cultural property was the focus of the seminar for seven Montenegrin institutions in Podgorica.
The OSCE Mission to Montenegro, in co-operation with the OSCE Transnational Threats Department and the support of the Italian and Slovak embassies to Montenegro, organized the seminar under the Slovak 2019 OSCE Chairmanship.
Around 30 representatives from the Ministry of Culture, the National Museum, the Museums and Galleries of Podgorica, the Directorate for the Protection of Cultural Property, the Basic Court, Customs Administration, the Police Directorate and Interpol attended the event.
The Head of the OSCE Mission to Montenegro, Maryse Daviet, said that today's workshop builds on conclusions of the workshop in May, where participants learned about cultural property databases from Austrian and North Macedonian experiences.
"Montenegro has a rich history and unique cultural heritage and the Mission supports all efforts in preserving it," Daviet said. "We strongly support the strengthening of institutional co-operation and co-ordination at all levels. As Montenegro continues to enhance its internal capacities and co-ordination, it will be recognized as a valuable regional and international partner."
Daviet also recalled that the Mission started with activities to combat trafficking in cultural property under the OSCE Italian Chair in 2018 and this has continued under the Slovakian Chairmanship, with continuous co-operation from the OSCE Transnational Threats Department.
The Slovak Ambassador to Montenegro, Roman Hloben, said that in December 2016, the OSCE participating States adopted a Ministerial Declaration on strengthening OSCE efforts to prevent and counter terrorism by undertaking measures for preventing terrorist financing that includes items of archaeological, historical, cultural, rare scientific and religious importance.
"The same Ministerial Declaration calls upon participating States to recognize the importance of information sharing through multilateral and bilateral mechanisms and data exchange systems as a major driver for success in co-operation in fighting terrorism and serious organized crime," said Hloben.
The Italian Ambassador to Montenegro, Luca Zelioli, said: "I'm sure that today's seminar will contribute to increasing capabilities in countering illicit activities that do not only damage our countries but also harm our collective memory, that is our common cultural heritage."
Aleksandar Dajković, Director General of Directorate for Cultural Heritage in the Ministry of Culture said that the Government of Montenegro and the Ministry of Culture have a clear goal in creating conditions for the implementation of European standards in the fight against illegal acts on cultural property. "Therefore, we support inter-sectoral and international co-operation and actively participate in these processes. We believe that this kind of workshop, through the exchange of proven good practices, contribute to our efforts to act effectively to prevent illegal activities", Dajković said.
According to OSCE, Italian experts Captain Salvatore Rapicavoli, Data Processing Unit Commander and Sergeant Fabio Di Prospero, Data Processing Unit Operator from the Carabinieri Command for the Protection of Cultural Heritage conducted the seminar./ibna