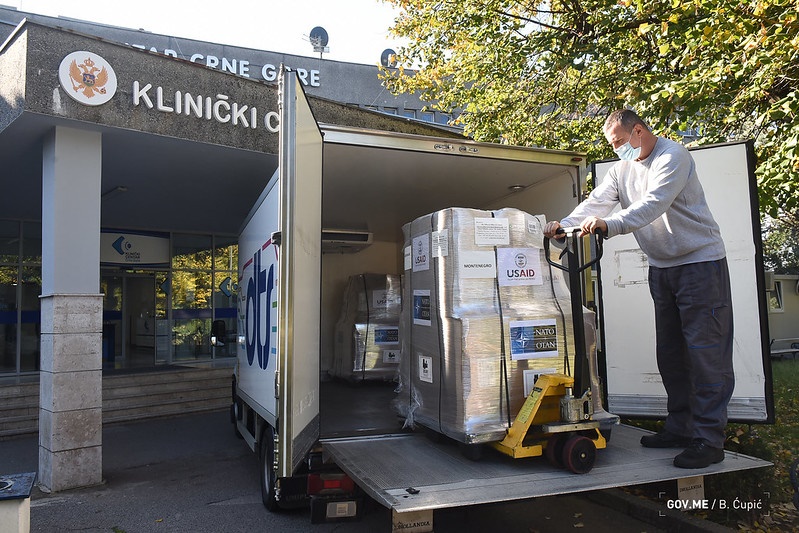 The Chief of the General Staff of the Armed Forces of Montenegro, Major General Dragutin Dakić, alongside the Head of the Crisis Medical Team Dr. Nermin Abdić, received a valuable NATO donation of 20 ventilators. Their value amounts EUR 300,000, while another batch of medical equipment worth EUR 500,000 is expected in the coming days.
"On behalf of the Ministry of Defence, I thank NATO for the valuable donation of medical equipment worth EUR 800,000. This embodies yet another proof of support within the Alliance that acts in all situations, including the COVID-19 pandemic. It is confirmation that only with the unity and support of all NATO partners can we effectively oppose the challenges today's world is facing", Major General Dakić announced.
Dr. Abdić also expressed his gratitude for the valuable and, especially at this moment, significant donation. "Today, we had the opportunity to receive this valuable donation from our partners and friends from NATO. These are 20 ventilators worth EUR 300,000. In the following period, we will receive valuable medical equipment, also a NATO benefaction, worth EUR 800,000. That medical equipment will be distributed to health institutions in Montenegro, according to the assessment of the Crisis Medical Staff, and in accordance with their needs", Abdić pointed out.
The remaining part of the 500,000 euro-worth equipment, which will be delivered to Montenegro in the coming period, includes oxygen cylinders, manometers, oxygen atomizers, monitors and gas analysis devices.
"What I can say at this moment is that the health care system in Montenegro has 310 ventilators and, with the addition of these 20, there will be a total of 330 ventilators in Montenegro. Yesterday, we had four patients on ventilators and 21 patients on non-invasive ventilation", Dr. Abdić noted.
As the Government announced in a press release, Montenegro has previously requested assistance from the Alliance through the Euro-Atlantic Disaster Response Coordination Centre (EADRCC). /ibna