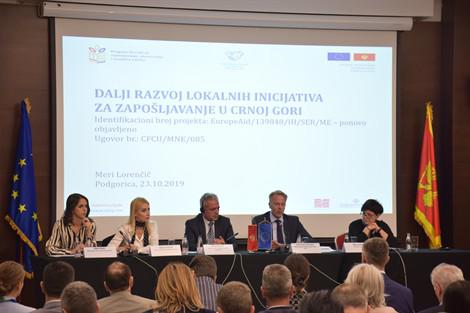 First and foremost, the European integration process should be felt by local communities, who should see the quality of their lives improve, including better education and more jobs, asserted the EU Ambassador to Montenegro, Aivo Orav, at the event marking the start of an EU funded project aimed at boosting employment opportunities in the local communities.
"In order to achieve this, two burning issues need to be tackled: inequality and unemployment, especially for young people and other vulnerable groups", Orav said.
The EU funded project, which will be implemented by the Ministry for Labour and Social Welfare, is part of a wider EU support programme, worth 18 million euros to help Montenegro modernise employment, education, and social policies and support especially vulnerable groups who are the least active on the labour market, such as youth, women, minorities and people with disabilities.
More needs to be done to address the "high proportion of inactive population" especially in regards to the youth, women, and minorities", Orav advised.
He said that, besides the low labour market activity, Montenegro must improve the coordination between employment and social services. In parallel, efforts should be invested in decreasing the informal economy, as well as improving labour market regulation and the taxation system.
In order to create quality labour market policies and measures, it is necessary to use the so-called bottom-up approach, asserted the Minister of Labour and Social Welfare, Kemal Purišić. That is why the Ministry decided to encourage labour market interventions that would allow them to obtain quality inputs from the local level.
"One of these interventions is precisely the project "Further development of local employment initiatives in Montenegro", Purišić said, at the Conference marking the beginning of the project.
"It is, therefore, our intention to support the development of local strategies and action plans for the recruitment and development of human resources through this project. This will directly address local needs and challenges, and analyse the situation and developments in the labour market by considering relevant partners", Purišić added.
The project, worth EUR 373,000, is aimed at enhance development of the local employment initiatives for improving the labour market and increasing employability. In the next year and a half (until February 2021), the beneficiaries will work on building the capacity of local stakeholders to engage in partnerships for employment promotion and human resources development at the local level./IBNA