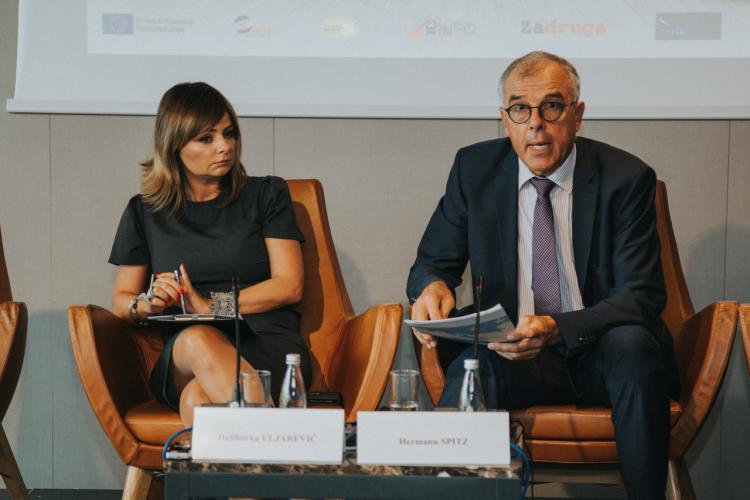 Corruption at the local level in Montenegro is not only a local problem since it requires a multisectoral and comprehensive response. This was concluded at the Annual National Conference on Fighting Corruption at the Local Level, organised by the Centre for Civic Education (CCE).
The Head of the Cooperation Section in the Delegation of the European Union to Montenegro, Herman Spitz, said that good governance and the rule of law are fundamental for every democratic State.
"That is why reforms in the area of the rule of law are important and critical, and the EU has repeatedly emphasised that Montenegro's progress in reforming the area of the rule of law will determine the speed of negotiations," said Spitz.
He said that he was pleased to see more and more Montenegrin citizens at the local level "raising their voice," by pointing to corruption cases and acting to protect the public interest. Expressing dissatisfaction is not only a right but also a duty of the citizens, said Spitz.
"Corruption at the local level, as in any other form, will not disappear on its own. It requires action, painful cuts, effective processes to be carried out by competent authorities, and also a strong political will," added Spitz.
Fighting corruption at the local level is a key challenge in building the rule of law as the cornerstone of a democratic society aspired by Montenegro, said the Minister of Public Administration, Suzana Pribilović. According to Pribilović, one of the basic features of democracy is the transparency of the system. Pribilović explained that, by bringing a new law on local self-government, a series of activities that should contribute to improving the transparency of local self-governments have started.
"An effective public administration is the only governmental body which can provide services to citizens at all levels and at all times, and is constantly aware that it is there for the citizens who pay for it," said Pribilović.
The Executive Director of the Centre for Civic Education (CCE), Daliborka Uljarević, said that corruption has devastating consequences and harms all citizens. She said that the key levers of the fight against corruption have an excess of inappropriate political influence and a lack of integrity, expertise and courage, which are serious limitations to the essential fight against corruption.
"That is why changes in these key institutions are necessary to create an environment in which corruption will not be an unpunished phenomenon, and in which party and other particular interests will not be above the law," said Uljarević.
According to EU Delegation to Montenegro press release, the annual conference was organised within the project «Let's put corruption in the museum! », which the CCE conducts in cooperation with several NGOs, the Ministry of Public Administration and The Anti-corruption Agency. It represents the third phase in the implementation of the wider CCE programme financed by the European Union, which aims to contribute to the reduction of corruption at the local level./ibna