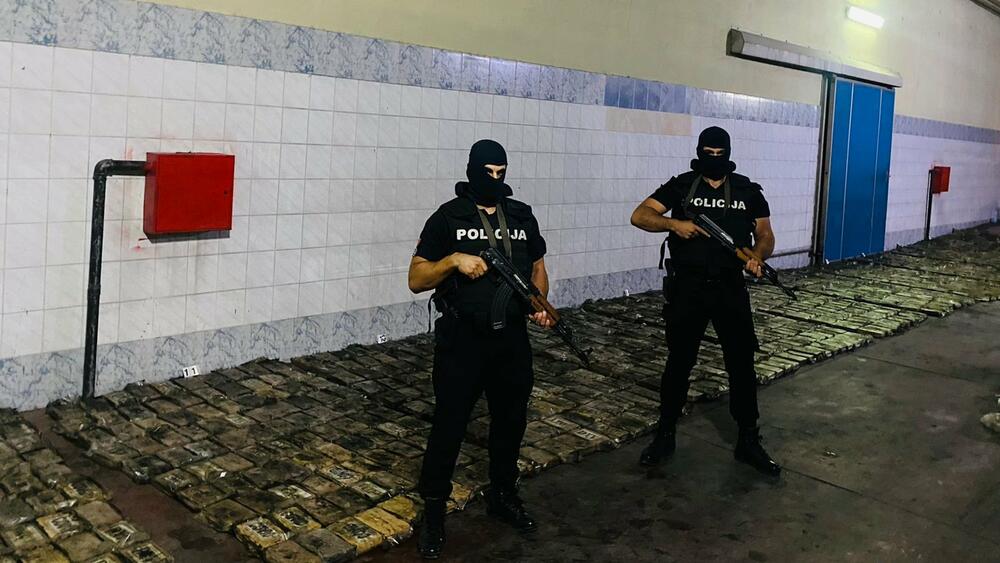 Montenegrin police found 1,205 packages of cocaine in a warehouse in Zeta and arrested two people. According to unofficial information, the total weight of the seized drugs is over 1,500 kilograms, which is the largest single seizure ever in Montenegro.
The police issued a short statement in which it is said that the drugs were seized in one place, in a warehouse in Mojanovići. Allegedly, in this case as well, the drug was in the shipment of bananas. It is suspected that the shipment arrived by boat via the port of Bar. It is interesting that most of the packages are marked and on some of them it was written "COVID".
The identity of the arrested was not announced, and the police blocked several streets near the Police Administration due to the action, code-named "187". The action, as noted in the statement, was carried out in cooperation with the police and the Customs Administration of Montenegro.
The Deputy Prime Minister of Montenegro, Dritan Abazović, in a Twitter post, congratulated the police and customs on their great success.
"What a success of the Montenegrin police. I congratulate the Ministry of the Interior of Montenegro, the director, management and officers of the Police Administration, as well as the Customs Administration on the historic seizure of cocaine ", wrote Abazović.
He added that the Government of Montenegro is doing what it promised and that "this country will not be a country of crime".
Drug smugglers have long known Mediterranean ports in the region, and cocaine is most often hidden in banana shipments. A few months ago, the Croatian police found 585 kilograms of cocaine in a container in the port of Ploče, which was not taken over for further transport. The declaration said that there were bananas in the container.
Recently, also in Ploče, 18 kilograms of cocaine among bananas wandered into the "Lidl" shopping centre. A worker who went to unpack the fruit found the drugs in the box.