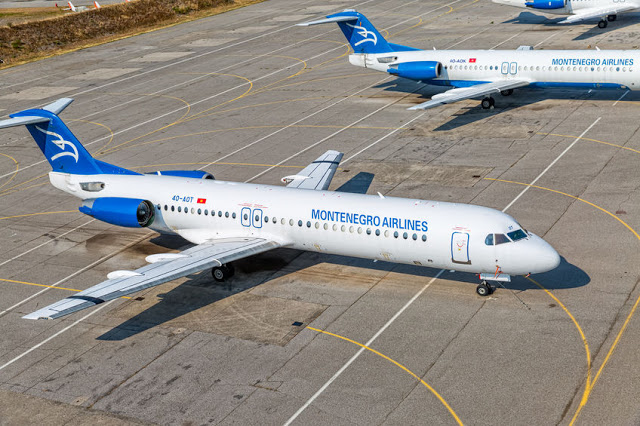 The pilots of the defunct Montenegrin national airline Montenegro Airlines (MA) are in the dark regarding the number who will be transferred to the new ToMontenegro airline.
As announced by the Airline Pilots Union, if only two planes fly, that means 20 pilots will lose their jobs.
They told Dnevne novine that there were 40 pilots working in MA, whose status remains unknown.
"For 24 years, MA captains have been a trademark of the national airline, with a flawless operation of aircraft, without any incident," the union said.
Today, all MA pilots are out of work and say that none of the authorities has contacted them since the conversation with Prime Minister Zdravko Krivokapić.
"Nobody is calling us; we had one conversation and that's it. Today, we see that the Government has announced a competition for a consultant for a new airline. Well, if someone had professional people to help, then that's MA. A consultant from abroad will apply for the competition, who will offer what our staff can offer, and charge many times more. It turns out that the best are those who have been "outside" for a while, and we are not good enough. Nobody, and I mean nobody invited us for consultations, and inestimable damage has been caused," the union explains.
According to them, the road to the European Union definitely does not go through companies that shut down and sink into the abyss, just for a different company of the same kind to open afterwards.
"A pretentious decision of the Government, and at the same time frivolous. They announce that the planes will take off on June 1. Anyone who understands this business at all knows that the sale of tickets must start at least two to three months in advance", it was announced from the Trade Union.
They said it remains unknown how many planes will take off and when they will be transported, as there are no tickets in circulation.
"We will get into a situation to have 100,000 empty seats for the season and we will transport only a few passengers," the Line Pilots' Union announced.
They added that they are aware that the pilots have salaries that are above the Montenegrin average, but they point out that they have not received a penny since September.
"We have not been paid since September. Even if we had some savings, those are becoming smaller by the day and no one asks how we will educate our children or repay the loans", the Line Pilots Union concludes. /ibna