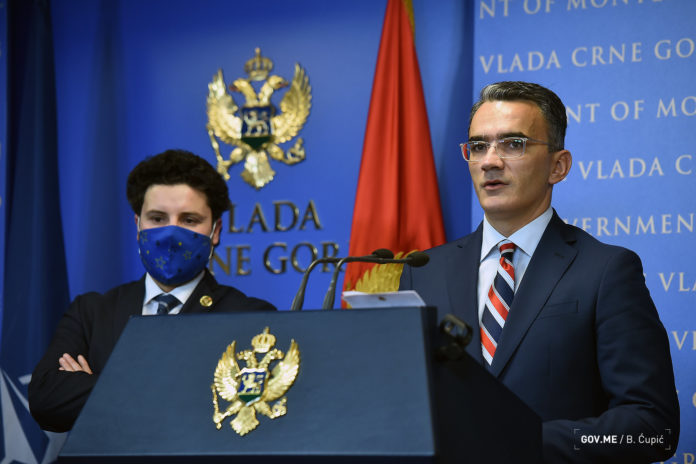 The new Montenegrin government has done more in five days in terms of interreligious dialogue than the previous one did in five years, said Minister of Justice and Human and Minority Rights Vladimir Leposavić, emphasizing that the Proposal for Amendments to the Law on Freedom of Religion was adopted unanimously at yesterday's session.
At a press conference on Friday, Leposavić said that there was no obligation to organize a public debate as the proposed changes do not change the essence of the law, which, as he stated, is more "religiously sensitive" than was the case before.
"This law does not require additional financial resources, does not change the system of state administration, does not take away any acquired rights," Leposavić pointed out.
The goal of the Law, he said, is not to determine the place or hierarchy of religious communities, but to put them in an equal position and for the conditions of their work to be such that they can flourish freely and equally.
According to Leposavić, the law should be a bridge for the establishment of a multicultural society, which has been the motto and part of their political programs so far.
"When it comes to the intensive consultations between the Ministry of Justice, Human and Minority Rights and the representatives of religious communities in Montenegro, this Government has done more in five days in terms of interfaith dialogue than its predecessor did in five years," said Leposavić.
As he stated, the existing law had a sterile attitude towards religious communities and churches and practically only tolerated their existence.
"By correcting the mistakes of the previous legislator, we managed to go one step further and now we have a proposal for a new law that has become religiously sensitive and which goes in the direction of meeting the needs and protecting the rights of churches and all religious communities," Leposavić said.
He assessed that the new solutions are good for all citizens because, as he stated, they confirm the respect for property rights as one of the most important human rights.
"Existing religious communities do not lose their legal personality; acquired rights are preserved and there is no need to re-register, which is especially important for smaller religious communities," Leposavić pointed out.
As he explained, the signed agreements concluded between the state and religious communities are respected, and their legal force is not in question.
In particular, as Leposavić said, they referred to the protection of cultural heritage, that is, that those religious buildings that have the status of cultural goods should be protected in accordance with the entire law on the protection of cultural goods.
He said that the catalogue of existing religious communities had improved, "so there was no restrictive deprivation of rights that had already been acquired."
Leposavić noted that all suggestions of churches and religious communities were adopted, and added that one part of the suggestions concerned requests that cannot be regulated by this Law, because there is a need for tax relief, regulation of transfers and the like.
Commenting on the fact that the Montenegrin Orthodox Church (CPC) stated they were not consulted, Leposavić said that a dialogue was conducted with all traditional religious communities.
When asked whether the CPC is considered a traditional religious community, Leposavic answered that, although he has a personal opinion on the matter, it is not up to him to burden that portion of the public that holds different views and that as an official he should have an equal attitude towards everyone. /ibna
Source: MINA