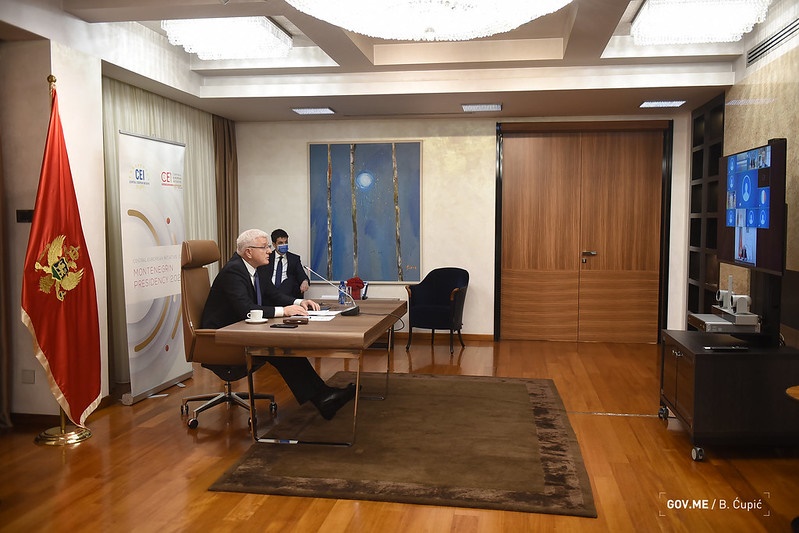 The countries of the Central European Initiative (CEI) agreed today at a teleconference summit, chaired by Montenegrin Prime Minister Duško Marković, to work closely together and show solidarity in efforts to address the socio-economic consequences of the new coronavirus pandemic.
"We agree that emergency measures must be strictly in line with the current health crisis, be well coordinated, proportionate, transparent and always respect the fundamental rights of each individual", the Joint Statement said.
The member states of the oldest European regional initiative assessed that the serious socio-economic consequences of the new coronavirus pandemic require unusual measures with determination, unity and solidarity. "We are committed to focusing on improving socio-economic performance, a conducive environment for business and investment so that our economies can recover faster by strengthening trade and unhindered flow of goods, strengthening connections, attracting more foreign investment and tourism. We reiterate that cooperation, trust and solidarity are the most effective responses to this pandemic. Emphasizing that respect for international law remains our guiding principle, we are determined to respond decisively, in an innovative way and jointly, especially through strong partnerships, in order to address the socio-economic challenges that COVID-19 poses to our region, " states the Joint Statement.
The efforts of the CEI and other regional and international organizations in providing a coherent and coordinated response to the wider implications of the various dimensions of the crisis caused by the new coronavirus pandemic are encouraged.
The CEI countries welcomed the mobilization and redistribution of more than seven billion euros through various EU instruments in support of the Western Balkans and the Eastern Partnership countries to address the immediate health and humanitarian needs of the pandemic and to help limit the negative economic consequences of the pandemic.
The Summit, organized by Montenegro as the current country chairing the Initiative, was attended by Prime Minister Duško Marković, Prime Ministers of Albania Edi Rama, Bulgaria's Boyko Borisov, Croatia's Andrej Plenković, Moldova's Jon Čiku, North Macedonia's Oliver Spasovski and Denis Schmihal from Ukraine, as well as senior officials from other CEI member states. European Commissioner for Enlargement and Neighborhood Policy Oliver Varhelyi, Director of the World Health Organization for Europe Hans Kluge and President of the European Bank for Reconstruction and Development Suma Chakrabarti took part as special guests.
The Prime Minister of Montenegro, Duško Marković, said that this country has already taken the first steps in the normalization of life and preparation of the tourist season, and appealed for the process of normalization to be entered in a synchronized manner./ibna