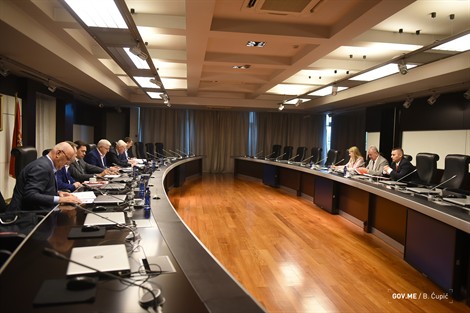 The National Security Council, chaired by the Prime Minister and Council President Duško Marković, held today a session, attended by Veselin Veljović, Director of the Police Directorate, in addition to the members of the Council.
As it was announced by the government of Montenegro, the Council adopted a special report on the results of the fight against organized crime and corruption drafted by the Police Directorate and concluded that serious progress has been made in the fight against organized crime at all levels, with the strengthening of the overall institutional capacities of all security sector bodies.
It was concluded that special priority should be placed on measures to detect and prevent the trafficking of narcotic drugs since funds derived from such criminal activities represent a real economic power for the operation of organized criminal groups.
Also, as one of the priorities, specific activities have been defined in conducting financial investigations, misusing financial operations, tax fraud and tax evasion to eliminate all irregularities that pose a threat to the stability of the economic system.
The Council also pointed out the need to undertake activities with a special sensitivity to eliminate the "weak spots" within the institutions of the system, which are trying to be misused to achieve criminal goals.
Information on measures and activities on securing the state border and the suppression of illegal migrations was also given, and the Council noted that the situation at the state border is stable, the movement of migrants is controlled, and that illegal migration at this moment does not pose a threat to national security and public order.
The Council also adopted the Report on the Implementation of the Action Plan for the Implementation of the National Security Strategy of Montenegro 2018-2020 for 2018 and noted the excellent level of realization of the planned measures in the mentioned year./ibna