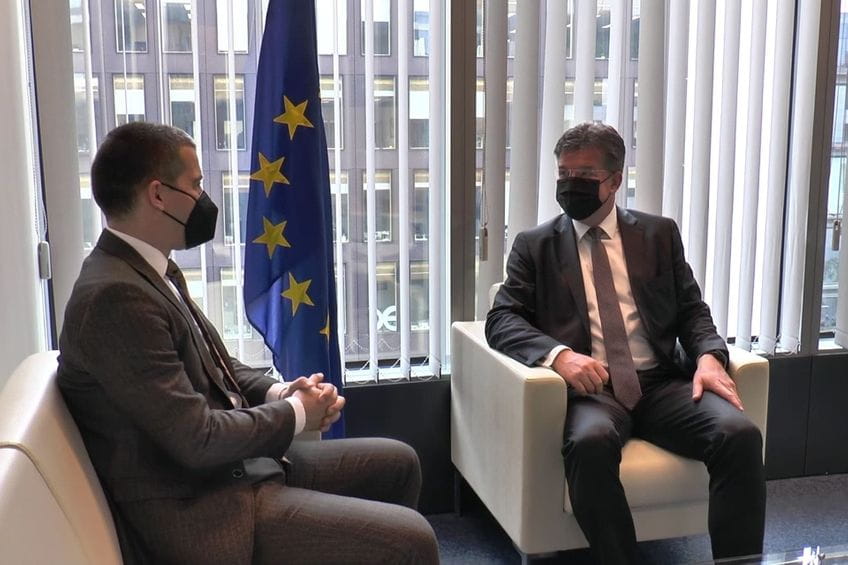 "The EU appreciates your activities and clear pro-European attitudes, you have proven to be a credible and responsible partner, which was recognized not only by the Union but also by the citizens of Montenegro, and I encourage you to continue on this path in the future," said EU Special Representative for Dialogue Belgrade – Priština and other regional issues of the Western Balkans Miroslav Lajcak during a meeting with Montenegrin Parliament Speaker Aleksa Bečić. The official meeting was preceded by a tete-a-tete meeting, where opinions were exchanged on the vision of the development of the enlargement process and expectations on the dynamics of fulfilling the obligations from the European agenda.
"We are aware that Montenegro has a great chance and possibility when it comes to the European path, and the new government will not deviate from the foreign policy course," Bečić said. In that regard, he referred to the challenges facing the country, especially in the context of building regional stability and good neighbourly relations, for which Montenegro has always been recognized in the European context.
President Bečić informed the Special Representative about the plans at the domestic level, especially in the light of the planned dialogue between the leaders of the parliamentary parties, which will contribute to political stability and reduce polarization in society. In this regard, he referred to the key role of the Assembly, as an institution that encourages the exchange of opinions and building compromises on important topics that burden the public.
Lajcak pointed out that the European Union appreciates that Montenegro fully harmonizes its foreign policy with the EU, which, according to him, is "much more relevant today than five years ago."
Calling for Montenegro to deliver more results in the areas of media freedom, the fight against corruption and organized crime, and for judicial reforms to be in line with international standards, he encouraged Montenegro to persevere in all reforms that bring it closer to the Union. "Montenegro has the opportunity to achieve progress on the European path, because not only are you the most advanced country in the Western Balkans when it comes to European integration, but you are also the country with the least problems, both internal and regional," Lajcak said.
Speaking about the boycott of the Parliament, the EU Special Representative emphasized that the EU is concerned about the polarized political scene and the boycott, and that it is very important that all parliamentary parties participate in parliamentary life.
Finally, Lajcak emphasized the importance of preserving administrative capacity, and the principles of transparency and expertise in line with European standards and practices.