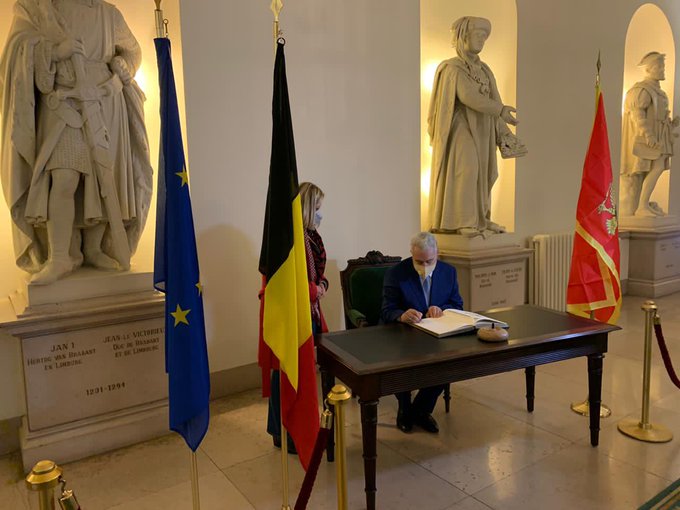 Belgium would be happy if Montenegro became the 28th member of the EU, however further efforts are needed along the way, especially when it comes to the institutional model of Montenegro, the judiciary and the independence of that branch of government, and particularly when it comes to the media, said the President of the House of Representatives of the Kingdom of Belgium Elijan Tilije, following his meeting with Prime Minister of Montenegro Zdravko Krivokapić. The officials also discussed the possibility of strengthening economic co-operation between the two countries.
In a statement to RTCG, Tilije said that most of the meeting was dedicated to Montenegro's EU accession.
Prime Minister Krivokapić told RTCG that the meeting with President Tilije was a follow-up of yesterday's talks aimed at supporting Montenegro on the path to EU integration.
"Today's wonderful conversation covered four key topics: The first one referred to the freedom of the media; the way and the relationship that we need to express in the future so that all media can do what is most important, and that is to report accurately and spherically in a timely manner," said the Montenegrin Prime Minister.
The second part of the conversation referred to the rule of law and the issues related to Chapters 23 and 24, with a special emphasis on the National Council to be established in the fight against corruption and organized crime. One of the important topics was the attitude of Montenegro towards the global pandemic crisis and the way Belgium addresses that problem.
"We received the most significant stimulus in terms of economic development and future investments. We made a preliminary start of future talks that will surely be fruitful. There is also the electoral legislation that we cannot ignore, and I hope that the Assembly will adopt a set of legal solutions that will be in the spirit and standards of the EU," Krivokapić concluded.
"The fight against the Covid-19 pandemic, economic problems, the rule of law, as well as the fight against corruption and crime are the biggest challenges facing Montenegro," Krivokapić said on Twitter after his meeting with Tilije.
Concluding, the Prime Minister said: "We are ready to make progress in these areas in the near future."
During his official visit, Krivokapić met EU and NATO high officials. /ibna