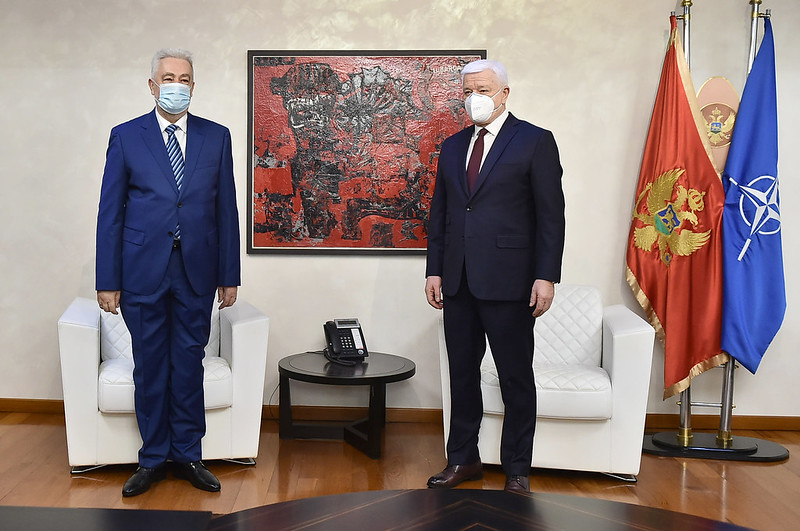 On Monday morning, newly elected Prime Minister of Montenegro Zdravko Krivokapić officially assumed office, succeeding previous Prime Minister Duško Marković.
Marković took to Twitter to state that the new government will work in the interest of all citizens.
"Today's meeting and the formal handover of duties are a confirmation of the democratic content, maturity and responsibility that our policy inherits," Marković said.
Sačekao sam jutros u @VladaCG novog premijera Zdravka Krivokapića.
(1/3) pic.twitter.com/6Ebw2uXk4t

— Duško Marković (@DuskoMarkovicCG) December 7, 2020
As announced by the Government, the interlocutors exchanged opinions on the current circumstances tainted by the health crisis and the demanding economic situation. The necessity to maintain the investment cycle and improve the standard of citizens was stressed.
Marković briefed the new prime minister on the realization of capital infrastructure projects with a special emphasis on the development of the north of the country, pointing out that the most important task of the new government is to adopt the Budget as soon as possible, in order to preserve the development momentum and ensure the smooth functioning of the system.
Prime Minister Krivokapić thanked his predecessor for the constructive approach, characterizing the departmental meetings that preceded the formation of the 42nd Government of Montenegro as useful.
"Our task is to work in the best way by utilizing human capital, for the common good of all citizens of Montenegro," said the Prime Minister and pointed out that the formation of such a government represents the only right path for Montenegro at this time.
Secretary General of the Government of Montenegro Božo Milonjić and Head of the Cabinet of the Prime Minister Ivana Malović also attended the meeting.
The new government held its first session today, which, as Deputy Prime Minister Dritan Abazović said, was dedicated to appointments for commissions that should start working for the Secretary General of the Government.
"There will also be information regarding the election of the chief negotiator, so we are trying to be as efficient as possible," said Abazović. /ibna