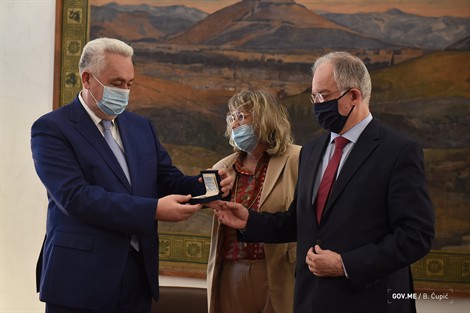 The Prime Minister of Montenegro, Zdravko Krivokapić, met today in Athens with the President of the Parliament of the Hellenic Republic, Konstantinos Tasulas.
Prime Minister Krivokapić expressed satisfaction with the visit to Greece and the opportunity to discuss the possibilities of cooperation between the two friendly countries with the highest officials. As he pointed out, Montenegro and Greece share common traditional and cultural values ​​based on which they can further improve cooperation in areas of mutual interest.
The President of the Assembly, Tasulas, thanked the Prime Minister for his visit to Greece and pointed out that he was familiar with Montenegro's position in European integration. He also said that he believes that Montenegro will succeed in fulfilling all obligations from that process.
"Greece will provide full support to Montenegro in that," Tasulas emphasized.
Tasulas expressed confidence that the dynamization of cooperation with the Parliament of Montenegro will be reflected in the strengthening of cooperation with other branches of government.
The interlocutors agreed that the perspective of the Western Balkans is in the European Union, and that the process should run as well and as quickly as possible.
The President of the Assembly of Greece also pointed out the importance that the Greek national hero and military leader, Vaso Brajović, who is originally from Montenegro, has in Greek history. After the meeting, the interlocutors visited the exhibition that was organized on the occasion of the 200th anniversary of the beginning of the fight for the independence of Greece.
Participating in the work of the 6th Delphi Economic Forum, Krivokapić said on Thursday evening that the Government of Montenegro will do everything to make Montenegro the first next member of the European Union.
Prime Minister Krivokapić spoke about the importance of Montenegro's membership in the EU at a panel dedicated to the topic. The Prime Minister said that Montenegro is determined to complete the negotiation process as soon as possible, and that it is expected that this will be realized by the end of the mandate of the 42nd Government of Montenegro.
"There is no doubt that we will do our best to make Montenegro the first next member of the European Union," said the Prime Minister.