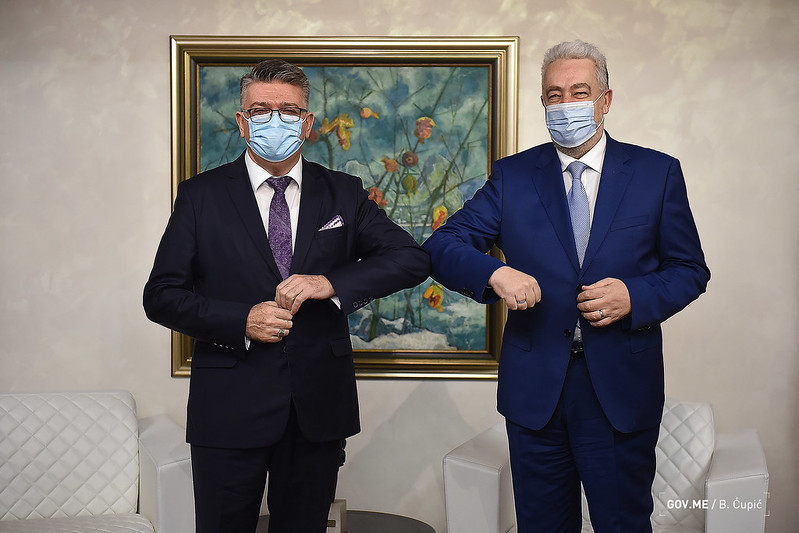 Montenegro Prime Minister Zdravko Krivokapić, talked today with the Ambassador of the Republic of Croatia to Montenegro Veselko Grubišić.
Montenegro's accession to the European Union, the construction of the Adriatic-Ionian highway, as well as the creation of conditions for resolving the only outstanding issue between the two countries -the issue of Prevlaka- were the main topics of conversation between Krivokapić and Grubišić.
"Prime Minister Krivokapić confirmed that Montenegro is unequivocally oriented towards European integration, which, as he said, was confirmed recently in Brussels, and on that path the Croatian experience can be a good example and guideline for our further steps. As the official Croatian attitude, Ambassador Grubišić emphasized the continuation of providing assistance to Montenegro on the European path in the form of expertise, participation in twinning projects and other forms suitable for both countries", the Government announced.
Regarding the Adriatic-Ionian highway, the interlocutors agreed that its construction is of great interest, not only for Montenegro and Croatia, but also for the entire region. Prime Minister Krivokapić emphasized the importance of defining the final plan and project as soon as possible, in order to promptly commence its realization.
Ambassador Grubišić recalled that Croatia also supports the improvement of Montenegro's road infrastructure and connections with Serbia and the region in general, as well as the fastest possible connection with Corridor 10 which will, among other things, have a favourable impact on Montenegrin tourism.
Krivokapić and Grubišić agreed that it is necessary to speed up cross-border movement and expressed confidence that the upcoming tourist season, despite the continued duration of the Covid-19 pandemic, and with the hope that the vaccination process will soon begin, will be significantly more successful than the previous one.
The issue of Prevlaka was identified as the only open issue between the two countries, and the interlocutors emphasized the functionality of the existing regime, appearing open to make efforts to reach a lasting solution acceptable to both sides. /ibna