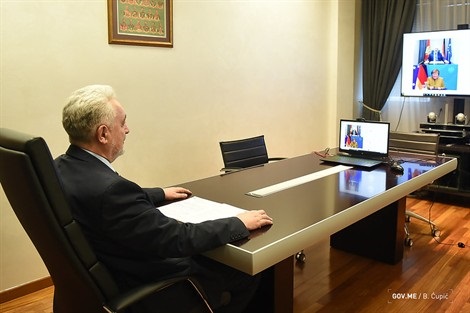 Germany will remain a reliable partner of Montenegro on its path toward European integration, said German Chancellor Angela Merkel in a conversation with Montenegro Prime Minister Zdravko Krivokapić.
As the Government announced, during their virtual discussion, the interlocutors expressed satisfaction over the continuous progress of the political dialogue between the newly elected Government of Montenegro and Germany.
Krivokapić and Merkel reportedly discussed bilateral political and economic relations, the process of Montenegro's accession to the EU and the reforms implemented by the Government along the way.
"Merkel welcomed the Government's commitment to regional cooperation and reiterated that Germany will remain a reliable partner of Montenegro on its path to European integration, for which Krivokapić particularly expressed gratitude," the statement notes.
Krivokapić also thanked Merkel for Germany's support to the Montenegrin government in terms of reforms, especially those that will contribute to the rule of law, as well as support in the fight against corruption and organized crime.
He pointed out that cooperation with Germany represent a good way and an incentive for the continuation of reforms in Montenegrin society which are necessary for EU accession, but equally necessary for Montenegro itself.
"Krivokapić and Merkel also discussed the consequences caused by the COVID-19 pandemic," the statement adds.
However, the statement does not clarify whether Merkel and Krivokapić discussed the reforms in the field of justice announced by the Government of Montenegro. These law amendments, according to some EU officials, will not be enthusiastically accepted by international organizations.
"Any attempt to replace the mechanisms agreed in the previous period relating to the judiciary and the prosecution with something that could bring Montenegro back to an era of receving much more critical reports from Brussels will not be well received in the EU," says Tonino Picula, the European Parliament's rapporteur for Montenegro.
The new government, he adds, has the right to its decisions, but they will be under EU and NATO scrutiny. /ibna