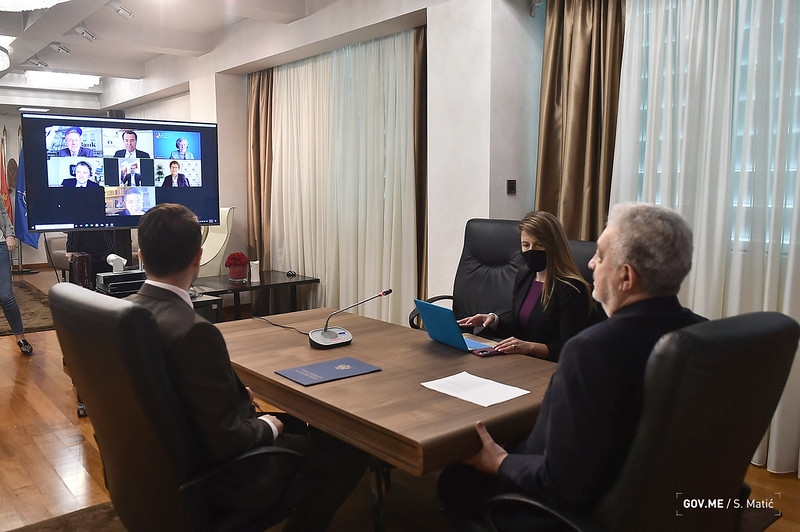 The Prime Minister of Montenegro, Zdravko Krivokapić, held an online meeting with the President of the European Bank for Reconstruction and Development, Odil Reno-Baso and her associates. In addition to the Prime Minister, on behalf of the Government of Montenegro, the meeting was attended by Minister Tamara Srzentić, and Ministers Jakov Milatović, Milojko Spajić and Mladen Bojanić.
"Prime Minister Krivokapić informed European partners about the priorities of the Government's work in the forthcoming period, especially in terms of building strong institutions, as a guarantor of independence and economic development, in order to improve the quality of life of Montenegrin citizens and Montenegro's accession to the European Union. The Prime Minister also informed his interlocutors about the projects being implemented in Montenegro, among which are the construction of the priority section of the Bar – Boljare highway, oil and gas exploration in the Montenegrin submarine, as well as the works that are still in the project phase, related to the green economy and the government's efforts to create a digital society," the government said in a statement.
Prime Minister Krivokapić and representatives of the EBRD expressed readiness to improve cooperation and to contribute to the achievement of positive and visible results in the coming period, primarily in order to improve infrastructure in Montenegro, as well as support the banking and small and medium enterprises.
The President of the EBRD welcomed the efforts undertaken by the Government, saying that they were ready to provide full support.
"I see that you have a clear approach and a clear strategy of what you want to do for your country, and that is nice to see," Reno-Baso said. She pointed out that the EBRD increased its presence and participation in Montenegro during 2020, especially due to the COVID-19 pandemic.
"I am talking about 160 million euros of financing through various financial institutions in order to support small and medium enterprises, local partners and institutions. These are 16 projects, including projects that support women in business, support to the banking sector, and the deposit protection fund. So, it is a series of different projects that have a high volume in financial terms, which show our will and readiness to support Montenegro", said the President of the EBRD.
When it comes to energy, Reno-Baso pointed out that there are three priorities for them – greening the economy, digitalization and gender equality. She stressed the importance of diversifying the economy, and pointed out that the EBRD is recognizable for supporting the private sector.
"That's why we want to invest in infrastructure, but in a way to help the private sector thrive. "Economic development depends on the private sector, and that is a way to avoid relying on public sources of financing," said Reno-Baso.