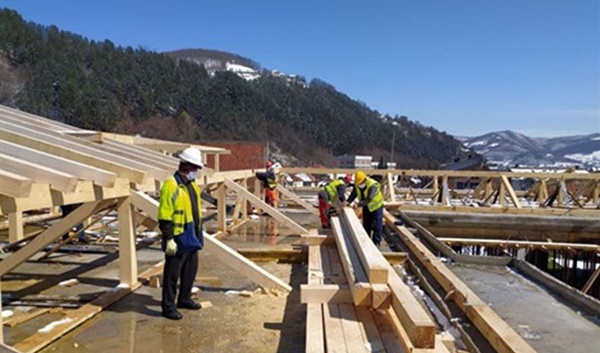 The Government of Montenegro continues to complete important capital investments despite the difficulties that arise due the coronavirus pandemic.
"The Public Works Administration has about 20 active construction sites at the moment. In order to prevent the spread of coronavirus, workers at construction sites comply with all recommendations and measures in terms of maintaining at all times distance from each other and using protective gear (masks, gloves), after the guidelines were adopted by the competent authorities over the past few days, with the National Coordination Body for Communicable Diseases at the wheel", the Montenegro Government notes in a press release.
Focus is shifted to organising work on high-rise construction sites with due observance of the protective health measures, while in civil engineering projects, such as construction and reconstruction of roads, mechanisation is of the utmost importance though the very nature of the job facilitates the implementation of safety instructions.
Working under special conditions on individual projects will not affect significantly the dynamics of works, thanks to the efforts of the construction companies involved.
Within the valorisation of the Đalovića cave in Bijelo Polje, one of the largest and most significant government projects worth around EUR 18 million, the work is currently organised in several positions. The whole section is expected to be ready for asphalt paving in the coming months, followed by the continuation of installation of the cable cars with the gondola, the start of the cave organisation, the construction of support facilities and other segments of the project.
However, it is quite propable that the adverse situation caused by the novel coronavirus will affect some projects; currently, the stadium in Cetinje serves as such an example. In recent months, significant progress was made on this project with the construction of the stands, but further dynamics could be affected with the postponment of the installation of the roof structure, as the workers from the North Macedonia-based company hired for the job were forced to return to their homes due to the pandemic.
Although aggravating circumstances were expected during the coronavirus pandemic, the Public Works Administration, in collaboration with contractors and expert oversight, will do their utmost to keep operations going at the sites.
In this endeavor, particular attention will be paid to the compliance with all measures and orders aimed at protecting the health of the construction workers. /ibna