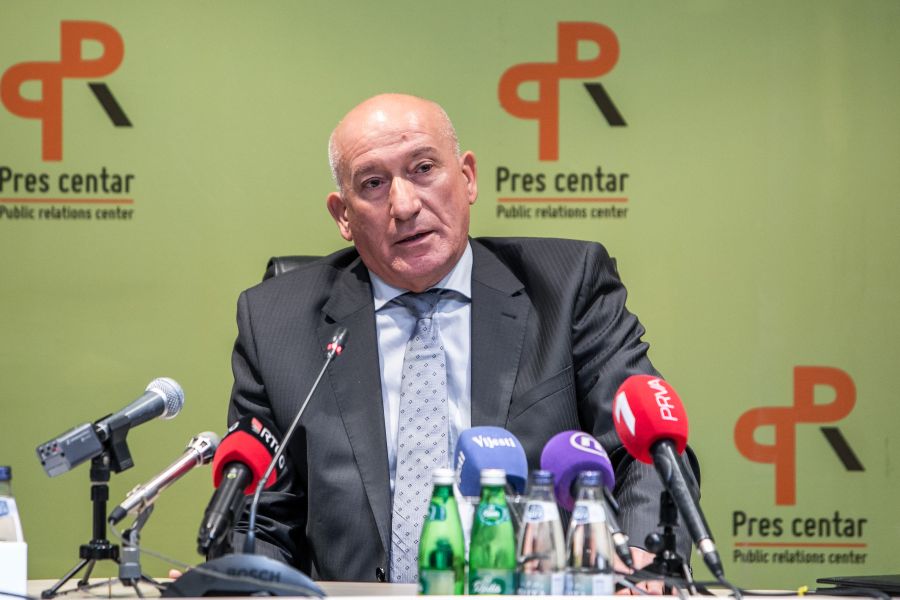 Chief Special State Prosecutor of Montenegro Milivoje Katnić announced he was ready to resign, albeit under certain conditions.
As he said, he is ready to resign if the submitters of the initiative for the adoption of laws on the prosecution give up their proposals and pledge not to submit it again until the expiration of the incumbent assembly's mandate.
In a statement submitted to the media, Katnić notes that he expressed his readiness to resign and the conditions at the extended session of the Supreme State Prosecutor's Office, at which the announced changes to the Law on the State Prosecutor's Office and the Law on the Special State Prosecutor's Office were discussed.
He said he had an official discussion with Prime Minister of Montenegro Zdravko Krivokapić on Wednesday.
"On that occasion, he informed me that, in the event that I resign, the deputies of the Democrats and the Civic Movement (GP) URA would give up the proposal to amend the Law on the State Prosecutor's Office and the Law on the Special State Prosecutor's Office," said Katnić.
He pointed out that there is no constitutional basis for amending those laws because, as he said, the laws undergo changes when necessary.
"The goal of these changes is the discrimination of the chief special prosecutor and of the secondary special prosecutors," Katnić claims.
As he said, those laws are not aimed at improving the conditions and cultivating organizational and other preconditions for performing the prosecutorial function.
"The goal is a showdown with "unsuitable" prosecutors, contrary to the constitutional, legal and general civilization achievements, and to allow the direct involvement of political structures and their influence on the decision-making process and the work of the prosecutor's organization," Katnić explained.
He recalled that the existing laws have passed all procedures and are harmonized with the best European standards, while their solutions are among the best legal solutions in today's Europe.
Katnić said that, regardless of all that, he was ready to resign from the position of Chief Special Prosecutor, which includes non-acceptance of the position of Special Prosecutor in the Prosecutor's Office to which, as he said, he is entitled by law, as well as not to apply for any other position in state bodies.
"The condition is that the President of the Democrats and the GP URA, Aleksa Bečić and Dritan Abazović respectively, sign a written statement and publicly pledge not to call -or at anyone else's request- their parliamentary clubs to put the mentioned laws in the parliamentary procedure during the mandate of this Assembly," he said.
Another condition, he said, is that Bečić and Abazović commit themselves not to change the personnel of the Prosecutorial Council until the expiration of their mandate, as well as the personnel and organization of the Special Police Department and the Sector for Fighting Organized Crime.
"Dear citizens of Montenegro; I am doing this in order to achieve, in my unreserved belief, the goal I have been fighting for all these years, and that is to keep the best state bodies and their best individuals on the line of fighting organized crime and corruption," concluded Katnić. /ibna