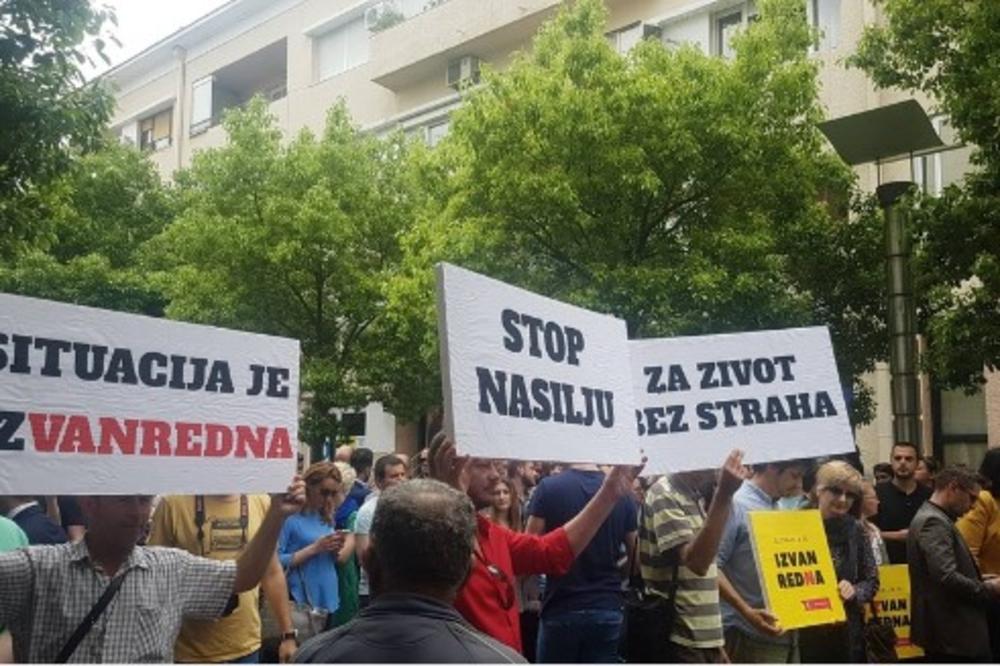 "Stop the Violence", "The situation is urgent", "For life without fear" is what a few of the hundreds of banners held by protesters read during their rally in Podgorica, on Wednesday.
Less than 24 hours after the armed assault against the Vijesti journalist Olivera Lakić, a great number of journalists, other media employees, NGO people and activists gathered outside the government building in the Montenegrin capital to demand justice and imperatively ask that an end is put to what they call "culture of impunity". They "accused the authorities of doing little to solve a series of attack on journalists in recent years. Those included another attack on Lakic six years ago and a bomb explosion outside another crime reporter's home in the north last month", the AP wrote.
Who's the boss here? Media reps demand justice
The 49-year old reported remains hospitalised after the attack while "Montenegrin officials, party leaders, the media, NGOs and representatives of international organizations in the country reacted to the latest attack, urging the prosecution and police to investigate the matter and bring the perpetrators to justice", BIRN reports.
Also on Wednesday, the Montenegrin media associations and the media's self-regulation body said that "Attacks on journalists in Montenegro will not stop until those responsible in this country do not understand that last night's shots (Tuesday, May 8) at Lakić were shots at all of us."
Montenegro's European perspective
Montenegro first applied for EU membership in 2008 whereas the accession negotiations began on June 29, 2012. In February 2018, the European Commission announced that Montenegro (and Serbia) could join the EU in 2025 but the particular year is neither "a target date" nor "a deadline", the EU's Foreign policy chief, Federica Mogherini had stated.
The EC and Aleksandar Andrija Pejović
That same month (February 2018) during the presentation of the EC strategy in Strasbourg, the country's Minister of European Affairs, Aleksandar Andrija Pejović and the MEPs had agreed Montenegro had made the most notable progress in intensifing the ongoing reforms and accelerating its path towards membership in line with the guidelines set out in the strategy document. Moreover, the competent minister had underlined that Montenegro's "European perspective is unquestionable", europeanwesternbalkans.com had reported.
Pejović had admitted that "The findings from the document (the EC strategy) are not novelty for us, and for that reason, we continuously work on improving the situation in the identified key areas. Montenegro will do everything to efficiently and effectively respond to the requirements of the accession process. We hope that the EU will continue to focus on the region in the future and continue to value individual results." One of the areas Montenegro lags behind is the freedom of press or better said the fight against those fighting media freedom.
So, what will the government do with this socio-political hot potato that besets the country?…. / IBNA