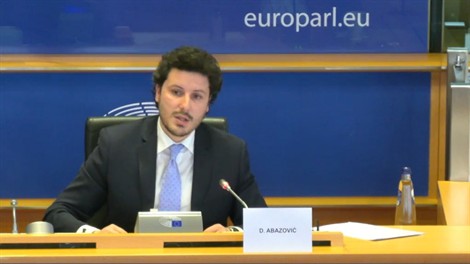 Montenegrin Deputy Prime Minister Dritan Abazović said in a speech at the European Parliament's Committee on Foreign Affairs (AFET), in the context of the consideration of the 2019-2020 Draft Resolution of the European Parliament for Montenegro, the comprehensive debate on the situation in the country and negotiations with the European Union, that after the first democratic change of government, the time has come for Montenegro to strengthen ties with the EU by implementing comprehensive reforms. Abazović pointed out that, with the strong support of the EU, the pro-European future of Montenegro is guaranteed.
A press release from the Office of the Deputy Prime Minister states that Abazović underlined that this Government is fully committed to European integration and reminded that this is one of the priorities in its work.
Good neighbourly relations in the Western Balkans and EU membership contribute to Montenegro's overall European aspirations. In this way, he said, Montenegro can protect and nurture its values ​​of a multi-ethnic and tolerant society based on democracy.
As Abazović pointed out, the new government will make sure that Montenegro remains a leader in the EU integration process. "The fact that we have opened all 33 negotiation chapters and temporarily closed three also carries the responsibility to continue with even stronger intensity and be an example to the countries in the region," said the Deputy Prime Minister.
As he also mentioned, the new Government of Montenegro is not satisfied with the intensity of negotiations in the last couple of years and is determined to take crucial steps in that direction.
"It is encouraging to see the support of the citizens of Montenegro for joining the EU, which is at an extremely high level, as much as 75%, pushing us to speed up the process of reaching EU standards and policies," Abazović said.
Abazović also spoke in detail about the work of the new government in its first 100 days in office, pointing out that it focused primarily on the fight against corruption and organized crime. In this regard, he explained that the activities that contributed to that fight include the establishment of two councils – the National Council for the Fight against High-Level Corruption and the Council for the Control of the Voters' List, as well as detecting abuses of EU donations and arrests of officials suspected of corruption and organized crime.
In his presentation, the Deputy Prime Minister also indicated that without the necessary changes in the Prosecutor's Office, there will be no major progress in the fight against organized crime and corruption. Abazović concluded that it is in Montenegro's interest to adhere to EU procedures in the process of amending the set of laws on the Prosecutor's Office, in order to achieve joint progress in the rule of law and judicial reform. /ibna