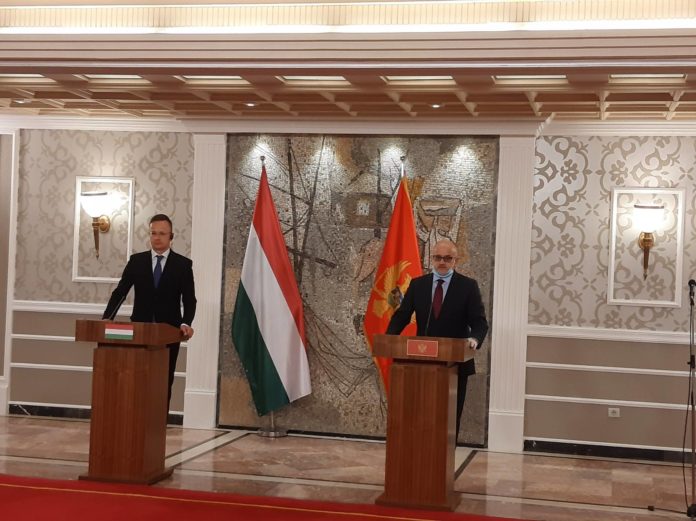 Montenegrin Minister of Foreign Affairs Srđan Darmanović said that the donation of Hungary is a gesture of solidarity and humanity, and that it will contribute to Montenegro facing the global challenge.
"Apart from humanitarian aid, Montenegro remains grateful for Hungary's strong political and expert assistance," Darmanović said after meeting with Peter Szijjarto, Hungary's Foreign and Trade minister, who is visiting Montenegro today.
"We exchanged views on the importance of EU financial support to the Western Balkans. We stated that the European Summit once again confirmed the European future of our region. Hungary is one of the countries with which we record a surplus", said Darmanović and added that Montenegro will soon be a "corona-free" destination.
Szijjarto said that it was important that the meetings could be held even in extraordinary circumstances, and that, as he said, is a proof of good bilateral relations.
"It is in Hungary's interest that the countries of the Western Balkans join the EU. We have significant trading partners in this region and Hungarian investors are interested in the countries of the region. The future economic development of the countries of the Western Balkans can contribute to the successful re-launch of the Hungarian economy. Our two economies are very closely linked. We had a trade turnover of over one hundred million euro. As far as imports are concerned, it is very important for the Hungarian aluminium sector, because we have large imports from Montenegro," he said.
As he said, after the pandemic, nothing will be the same.
"That is why the EU should be ready to participate in the new way of racing, and I think that is why it is important that we should take care of the continuation of the enlargement process, because that strengthens the entire EU and Europe. We place special emphasis on accelerating negotiations with candidate countries from the Western Balkans region. We believe that it is time to open the last negotiating chapter with Montenegro and close six chapters. We are ready to provide all possible support. I would like to say that we appreciate that Montenegro has shown its ability to cope with difficult situations even in difficult situations," he said.
He also said that he did not know when the borders would be opened, and that this was an issue that needed to be treated very carefully./ibna