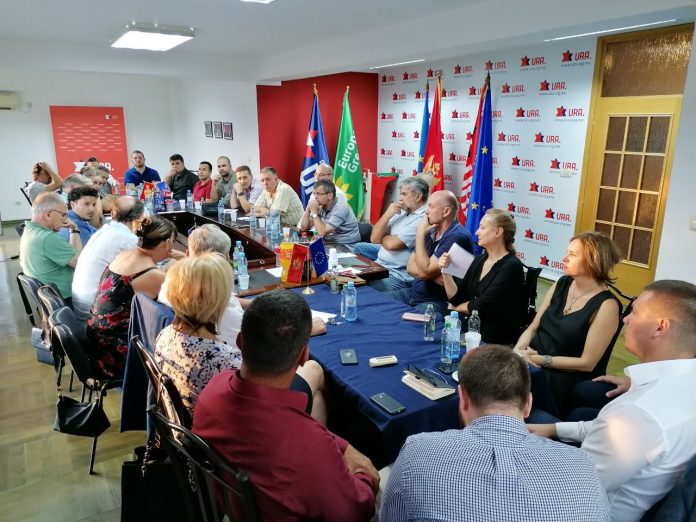 Institutional atrophy is in place in Montenegro, and the latest case of a phone call by the Secretary of the Supreme State Prosecutor's Office only confirms the correctness of the claim that Montenegro is a "State in captivity". This was stated at a meeting of representatives of the CIVIS Citizens' Alliance, independent intellectuals and the work of members of the URA Civic Movement Presidency.
In the meeting, participants discussed the modalities of uniting all civic forces, intellectual power, people who are not nationalists, populists and criminals but citizens who want change and a normal society, into an option that would emerge in the first fair and free elections in Montenegro.
"The purpose of the meeting with representatives of the CIVIS Citizens Union and independent intellectuals is to insist that we must come together on the basis of sound and clear motives and to show the citizens of Montenegro that this country has an alternative," the statement, issued after meeting, said.
As it is stated, the alternative, made up of proven people in their branches, true fighters for change in Montenegro, must intensify social activism and do everything to bring about the replacement of the thirty-year regime in the first free and fair elections.
"This fight is not easy and requires renunciation and sacrifice, but change cannot be expected from the sky," the URA said in a statement.
Attendees also pointed to the huge dissatisfaction of citizens, growing distrust of institutions, the system, political parties and concluded that such a situation is disastrous for every state and society.
"No one should remain silent and be a passive observer of all that is happening to us and destroy any hope that this country can be a decent, decent life. A civic alliance that would crystallize is a logical sequence that would mark the struggle for normal society", stressed participants at a meeting of representatives of the EUE, CIVISA and independent intellectuals./ibna