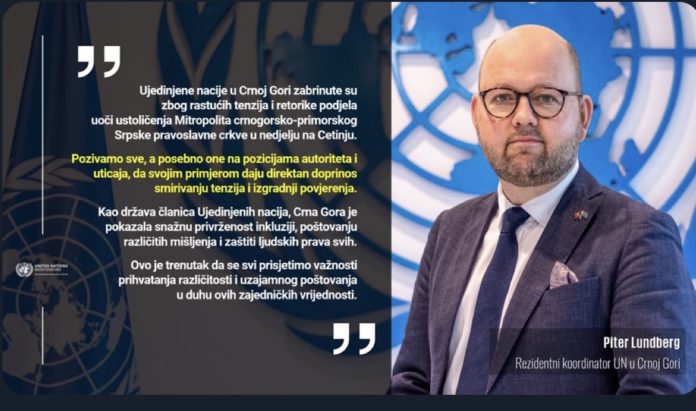 The United Nations and the European Union have expressed concern over growing tensions in Montenegro based on religious intolerance over the enthronement of Metropolitan Joanikije of Montenegro and the Littoral this weekend in Cetinje.
"The United Nations (UN) is concerned about growing tensions and the rhetoric of divisions ahead of the enthronement of the Metropolitan of Montenegro and the Littoral of the Serbian Orthodox Church (SOC) on Sunday in Cetinje," Peter Lundberg, the UN Resident Coordinator in Montenegro, said today.
"We call on everyone, especially those in positions of authority and influence, to make a direct contribution to calming tensions and building trust. As a UN member state, Montenegro has shown a strong commitment to inclusion, respect for different opinions and protection of human rights. This is the moment. to remind us all of the importance of accepting diversity and mutual respect in the spirit of these common values, "Lundberg said.
European Commission spokeswoman Ana Pisonero Hernandez said on the occasion of the recent events in Montenegro that "encouraging ethnic or religious divisions and intolerance is dangerous for the security and well-being of all citizens."
In Brussels, they point out that "a broad inter-party political dialogue, with the aim of overcoming divisions, is key to preserving stability in the country and progress on the road to the EU."
"Now is the time for all decision-makers in Montenegro to demonstrate their commitment to the European path and European values, promoting peace and tolerance and working together constructively, despite all political differences, for the benefit of citizens and the country's European future," Pisonero told Montenegro's Public Service.
She emphasizes that freedom of religion, tolerance and respect for fundamental rights are fundamental values ​​of the EU.
Asked whether they believe that the enthronement ceremony should be held in Cetinje, despite the tense situation, the EC said that "it is not up to the EU to comment on the venue of the inauguration of the leaders of the religious community in Montenegro."
According to the program of the enthronement ceremony, the Patriarch of the Serbian Orthodox Church, Porfirije, should come to Cetinje on Saturday, and Metropolitan Joanikije should officially take over the throne on Sunday. For now, there is no announcement that this could be postponed or moved elsewhere. Opponents of the Serbian Orthodox Church and supporters of the unrecognized Montenegrin Orthodox Church have announced that they will prevent enthronement by considering the Cetinje monastery their property.