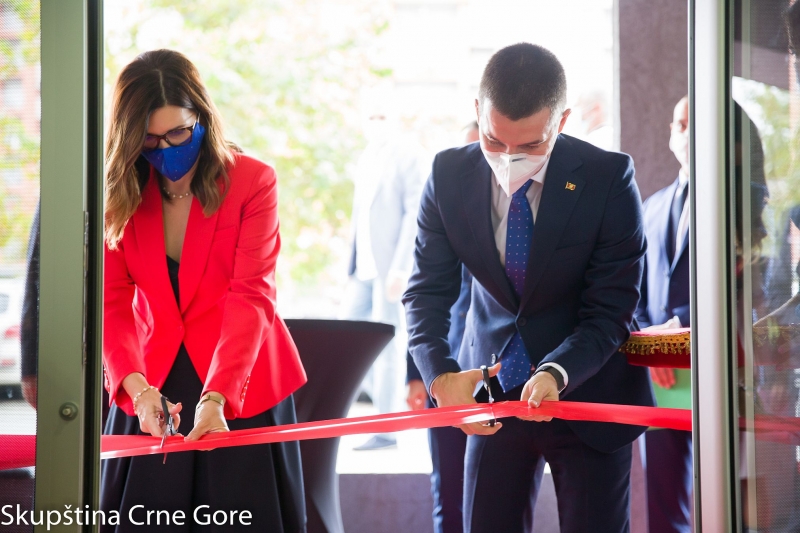 President of the Parliament of Montenegro Aleksa Bečić has opened today the Information and Documentation Centre in Podgorica, founded within the partner project with the Youth Initiative for Human Rights "Responsibility for the past".
In his address, Bečić emphasised that this event was an exceptional incentive to the reconciliation and cooperation, as values which should be additionally nourished and promoted with the aim of further enhancement of relations in former Yugoslavia but also the overall healing of divided society.
Speaking of the importance of the project, he expressed satisfaction with the fact that through such projects the intention of capacity building and cooperation among young people had been recognised in order to transform the current negative manifestations in the coming period into the cohesion force of Montenegro.
Bečić stressed the importance of informative and educative components of the Information and Documentation Centre, particularly bearing in mind the fact that certain public opinion polls had shown that the citizens of Montenegro have the "low level of knowledge of and interest in the war crimes topic that had occurred during the nineties" as well as that youth have poor knowledge on these topics.
"I would like to use this opportunity to express gratitude to the Youth Initiative for Human Rights for recognising particularly in the Parliament of Montenegro a partner for this project. Aware that there can be no democracy without strong civil sector and civic activism which preserve acquired liberties and protect human rights, I would like to express the readiness of the Parliament to support initiatives that eliminate polarisation in the Montenegrin society and contribute to the harmony of civic society," Bečić concluded.
Head of the EU Delegation to Montenegro Ms Oana Kristina Popa also addressed the present, thanking in particular to the Parliament of Montenegro for recognising the importance of initiating the project.
She stressed that public institutions have a strong responsibility, and in this context, the opening of this Centre represented an important moment for the political history of Montenegro, in terms of its dealing with the wartime past and its healing.
"I really believe that only through joint efforts like this, exchange of information, facts and promotion of justice, we can achieve reconciliation and long-lasting peace," Ambassador Popa said.
The Information and Documentation Centre Montenegro, the task of which is, inter alia, the gathering of relevant documents relating to war crimes committed on the territory of Montenegro, together with all statements, indictments, judgments and other sources connected to the war past during the 1990's. The Parliament of Montenegro has undertaken the obligation of conserving the gathered material and making it permanently available to all of the interested parties./ibna