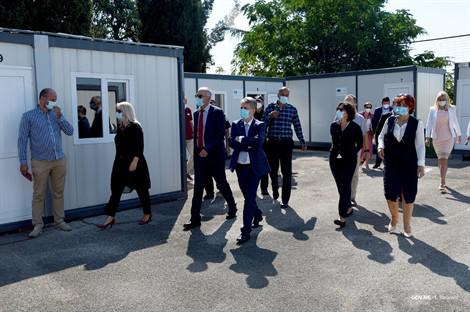 After Spuž, a second Reception Centre for Migrants and Asylum Seekers commenced operations in Božaj, near Podgorica. The Centre can accommodate 60 people, and is planned to operate under the Ministry of Interior. Its construction was financed by the Government of Montenegro with € 470 thousand and the European Union, which allocated an additional € 400 thousand from the pre-accession assistance funds (IPA) for the reconstruction of the former watchtower "Božaj" and the construction of the new Centre.
Head of the Sector for Cooperation in the EU Delegation Herman Spitz emphasised that Montenegro, despite all of the challenges the Government is called upon to deal with, has shown its resolve to receive those migrants with respect and dignity.
"Another significant EU funded regional project will soon be implemented by the IOM and the UNHCR. Within this project, some €700,000 have been earmarked for Montenegro. This regional project is an immediate response to the ongoing COVID-19 pandemic and its effects on the most vulnerable people. The EU financial assistance helps those in need of international protection in Montenegro with adequate hosting, medical, social, psychological, and technical support", Spitz stated.
The Centre was inaugurated by the Minister of Internal Affairs, Mevludin Nuhodzic, who emphasised that the reception centres in Spuž and Božaje underscore the readiness on behalf of the Government of Montenegro to provide a safe shelter for migrants. He thanked the Delegation of the European Union, the United Nations High Commissioner for Refugees, the International Organisation for Migration, and the UNICEF Office for their significant support.
"This is the best way to affirm Montenegro's European perspectives, based on the successful application of the best experiences in the field of integrated migration and asylum management", said Nuhodzic.
The Centre was built in the framework of the EU Integration Facility funded project "Technical Cooperation on Migration Management and Capacity Building", implemented from December 2018 to December 2019. /ibna