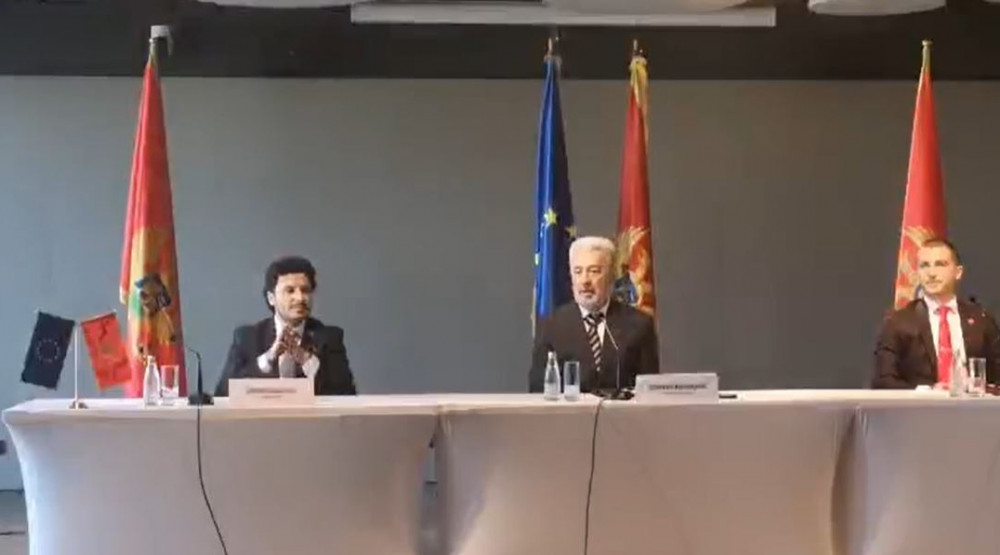 The new democratic government in Montenegro will responsibly implement all international obligations assumed by the state and will not initiate initiatives or procedures aimed at changing the flag, coat of arms and anthem.
This is foreseen by the agreement signed today in Podgorica by the leaders of the coalitions For the Future of Montenegro, Peace is Our Nation and Black on White – Zdravko Krivokapić, Aleksa Bečić and Dritan Abazović.
The agreement states that the new democratic government will responsibly implement all international obligations undertaken by the state, strengthen and improve cooperation with NATO and quickly, fully and committedly implement all reforms necessary for Montenegro's full membership in the EU.
It is stated that key government institutions will be completely depoliticized in order to ensure an uncompromising fight against crime and corruption.
It is added that the new government will not initiate the procedure for withdrawing the recognition of Kosovo's independence.
The agreement stipulates that the new government will not conduct revenge on political or any other basis.
"The new government will adopt and revise all laws in line with European standards with the aim of integrating Montenegro into the EU as quickly as possible and will allow minority parties to participate in the government, regardless of whether they have parliamentary status or not", the document stipulates.
Krivokapić claims that the course of these three coalitions will be pro-Montenegrin.
"Montenegro's attitude towards negotiations with the European Union was declarative, and we want it to be essential. The Law on Freedom of Religion now endangers the property in this case of the Serbian Orthodox Church. We will fight organized crime and corruption. It is a fight for Montenegro. We are not participants in any affair. If you find us in any affair, please do not spare us", he said at a press conference.
According to Bečić, this agreement is the best response to attempts to create an artificial crisis. He claimed that the new government will be conciliatory and pro-European and will serve Montenegro.
"We will respect the Constitution and there are no initiatives to change state symbols. Our goal is to strengthen civil Montenegro. We will not go back in time. There is no revenge, but there will be accountability, order and work. We are facing the constitution of a new democratic government. There is no exclusion of any individual, but expertise comes first", Bečić pointed out.
Abazović is convinced that the agreement is the greatest historical achievement in the last decade. He said that this majority will have the support of the international community.
"The future government should urgently dedicate itself to the economic situation in the country. Empty state coffers await us. The fight against corruption and crime awaits us. With this agreement, any manipulation of the DPS dies. This is a new page in the history of political life in Montenegro. Montenegro from the 1990s was defeated, and European Montenegro has won", Abazović said./ibna