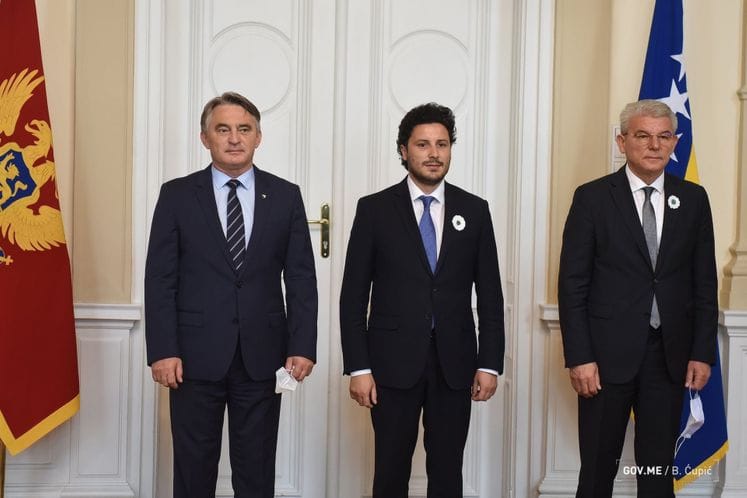 "Montenegro gives full support to BiH on the path of European and Euro-Atlantic integration. We want to build a better future in the European community of nations. That is the only way to get out of the Balkan 'black hole' ", stated the Deputy Prime Minister of Montenegro after the meeting with the members of the Presidency of BiH, Šefik Džaferović and Željko Komšić.
Abazović emphasized that "better infrastructural connection leads to greater mobility, and that it will lead to better connection of the region and breaking of prejudices among people." In that sense, Abazović emphasized the importance of the reconstruction of the road Šćepan polje – Foča, as well as the construction of a new bridge on that stretch.
He emphasized that there is a potential danger that the construction of the Buk Bijela hydroelectric power plant could have far-reaching consequences for the environment of Montenegro, but also endanger the Durmitor National Park, as a UNESCO heritage site.
BiH Presidency Member Šefik Džaferović expressed gratitude for Abazović's participation in the commemoration in Potočari and for the vote on the Resolution on the Srebrenica genocide in the Montenegrin Parliament, stating that it was an act of civilization. He indicated that the HPP Buk – Bijela project is disputable for him and that a dispute is being conducted before the Constitutional Court.
BiH Presidency Member Željko Komšić pointed out that BiH and Montenegro have excellent relations, which crowns the previously resolved border issue. Komšić stated that it is important that there are no changes in the rhythm of relations. He expressed satisfaction because Montenegro follows the NATO and EU path and that it is a recipe for the entire region, hoping for progress for his country on that path as well.
After the meeting with Deputy Chairperson of the Council of Ministers and Minister of Foreign Affairs of Bosnia and Herzegovina Bisera Turković, Abazović said that "we want to build the best relations with Bosnia and Herzegovina. We extend our hand of friendship. I feel at home in Sarajevo".
Abazović noted that relations between the two countries are friendly, based on common priorities, such as European integration, adding that the future of the Western Balkans is in the EU and that it is an ideal path to a stable and secure region. In that sense, Abazović emphasised that good neighbourly relations and European integration are key to economic and infrastructural recovery and development.
Minister of Foreign Affairs of Bosnia and Herzegovina Bisera Turković expressed gratitude to Montenegro and Deputy Prime Minister Abazović for adopting the Resolution on the Srebrenica genocide and stated that confronting the past will contribute to better regional cooperation that will result in EU accession.
Furthermore, the two officials discussed numerous joint infrastructure projects, problems with the construction of HPP Buk-Bijela, better cooperation in the field of tourism and opportunities to improve regional and multilateral cooperation.