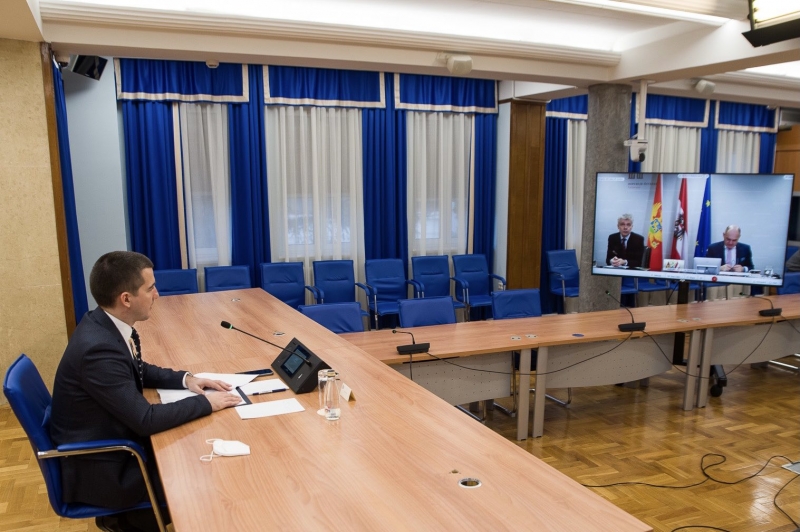 The President of the Parliament of Montenegro Aleksa Bečić held talks with Austrian National Council President Aleksa Bečić.
At the virtual meeting due to coronavirus restrictions, Bečić thanked Austria for its ongoing commitment to bilateral relations and expressed the expectation that successful co-operation would continue with the new Parliament. He welcomed the affirmative messages of Austria in the context of the enlargement and integration policy of Montenegro into the European Union, stressing that Montenegro remains consistent with its foreign policy commitment.
In a friendly conversation, Bečić briefed his interlocutor on numerous current political circumstances in Montenegro in the context of the past parliamentary elections, with a special emphasis on the transition of power and the functioning of cohabitation. He emphasized that the functionality of the system's institutions should be above the interests of any individual, also noting that frequent off-topic debates in parliament divert attention from the essential problems. "One nationalist argument encourages another, and together they feed corruption," Bečić stated.
Noting that the two parliaments have excellent long-term cooperation, President Sobotka expressed the expectation that parliamentary bilateral ties will be deepened in the upcoming period. He expressed special interest in current political events and assessed that Montenegro has shown democratic maturity in the recent elections, as well as that all political actors in the existing cohabitation should cooperate on a regular basis.
Sobotka said that Montenegro has allies in Austria, emphasizing that the European Union will not be complete without the countries of the Western Balkans.
During their conversation, the interlocutors exchanged views on the rich cooperation between the two parliaments, pointing out the importance of the Democratic Workshops project "Barbara Pramer", as well as the professional development of the Service of the Parliament of Montenegro in the Austrian Parliament.
On the occasion of the meeting, mutual invitations for visits to Montenegro and Austria were extended and gladly accepted by both sides, with the hope that they will take place as soon as the epidemiological conditions allow. /ibna