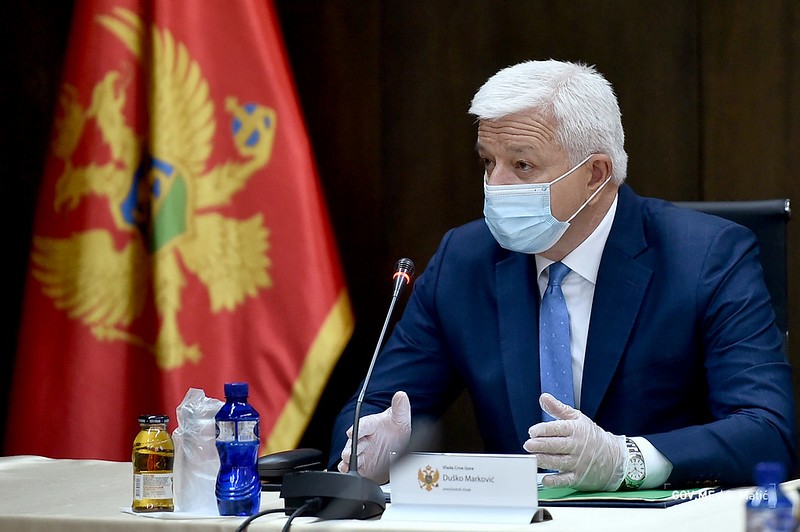 Montenegro's Prime Minister Duško Marković believes that the country will successfully respond to the challenge of the economic crisis caused by the consequences of the coronavirus pandemic, just as it has effectively responded to this great health threat. While appearing at the "Respond to people" show on the Television of the Federation of BiH last night, the Prime Minister pointed out that a serious package is being prepared for the tourism industry.
"The announcement of a figure of EUR five million in support of the tourism industry, was misunderstood. It is just an intervention for the salaries of tourism employees for two months, which the state will shoulder to the level of minimum wage and 100% of paid taxes and contributions. We are just preparing a serious package for the tourism industry, together with banks and the Investment and Development Fund, to sustain the investment in tourism, while ensuring the liquidity of the tourism economy to be ready for the start of the season," Marković pointed out.
He added that tourism depends on how other countries will behave and whether they will open their borders. He recalled that Montenegro has already opened its border at sea for nautical tourism and that he believes that marinas will be full of yachts coming from different areas in the upcoming period.
"We understand that, within the EU, especially in Croatia, a campaign was running for opening the borders among Croatia, Austria, Slovakia, the Czech Republic and Hungary. If that happens, Montenegro will seize that opportunity. Especially, since we are a truly safe country from the point of view of the epidemic", Marković said, noting the final phase in stopping the epidemic is now.
The Montenegrin Prime Minister said that from the very beginning of the implementation of the measures, the country allowed the citizens the greatest possible degree of movement and freedom: "We had the minimum restrictions on the movement of citizens, while allowing numerous economic activities in construction and implementation of capital projects financed primarily in the field of infrastructure and tourism".
He also emphasised that Montenegro has taken measures to rehabilitate the social and economic position of citizens. He also reminded that the value of postponed liabilities of citizens and the economy for three months towards banks amounts to EUR 1.3 billion, and to the state approximately EUR 100 million, which is only part of the measures of the first package on urgent measures. The value of the second package of economic measures amounts to EUR 75 million.
He specified that the key measures of relief will start on 4 May, when all entrepreneurs, small and medium-sized enterprises begin to work in full scale. "The next phase of economic acceleration and the beginning of new activities is 18 May, when we will put into operation hotels, restaurants, cafes, clubs and we believe that in this way we begin to bring back to life the whole country, to put creative, economic, civic and personal potentials into service for rapid and urgent recovery", Prime Minister Marković noted./ibna