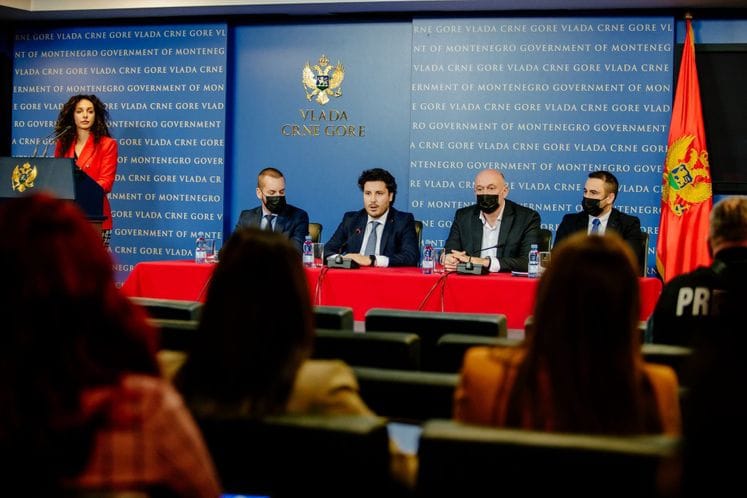 The goal of adopting this law is to finally put an end to the illegal enrichment of public officials, criminals or citizens who acquired wealth illegally, Deputy Prime Minister Dritan Abazović pointed out at a press conference on the occasion of presenting a model of confiscation of property of illegal origin.
According to the government press release, Abazović emphasised that this is a systemic law that will significantly contribute to the fight against organised crime and corruption in Montenegro.
This is the law against the mafia, which will significantly help in achieving justice. It is designed to be functional and applicable. I am proud of what the working group has done in the previous period. I hope that other competent bodies will also make a contribution, Abazović pointed out.
Explaining the problems that preceded the drafting of this legal solution, Adviser to the Deputy Prime Minister for Legal Affairs Ivo Šoć stated that it was a challenge to create a law that would find its place in the existing legal system and be in line with international law.
This is not an inquisitorial law, this is a model that guarantees the creation of a system that will effectively identify property that has been illegally acquired and confiscate property through court proceedings unless it is proven that it was acquired legally. It was a challenge to avoid the traps of populism and draft a law that would sound nice but would not be applicable in practice. Not just one law was drafted, but a whole mechanism that envisages the review and confiscation of illegally acquired property through several proceedings, Šoć explained.
Speaking about the procedure, State Secretary in the Ministry of Justice, Human and Minority Rights Boris Marić said that the origin of the property will be examined if there is reasonable suspicion.
State Secretary in the Ministry of Finance and Social Welfare Janko Odović emphasised that there would be two additional mechanisms that could be applied.
If the origin of the property is determined in court, then the classic tax procedure comes into play, which determines whether the property is reported and taxed in accordance with the law, he added.