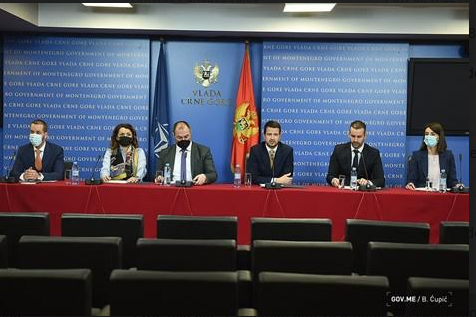 The Government of Montenegro has adopted a new bundle of measures to support the economy and its citizens for the first quarter of this year.
"The measures are aimed at supporting the maintenance of employment levels, improving liquidity, increasing the number of tourists, agricultural stability, as well as supporting vulnerable populations. The estimated total direct and indirect fiscal impact of the measures is around EUR 163 million. The Montenegrin government has once again shown that, despite the inherited situation, it has control over public finances," the Government announced at a press conference.
The adoption of the new package primarily reflects the need to support the economy through additional funds, after it reached financial exhaustion during the previous nine months due to a significant decline in economic activity, significantly exacerbated by the closure of borders during the 2020 summer tourist season. In addition, the measures represent a logical sequence of general recommendations of international financial organizations which, in the aftermath of the pandemic-related restrictive measures, contained recommendations for actions to be taken by monetary authorities, governments and financial market regulators.
Pensioners with an income lower than 222 euros shall receive 50 euros each, while the unemployed registered at the Employment Agency shall receive 100 euros each. Beneficiaries of material security and personal disability benefits are also eligible for financial assistance.
Subsidies for company incomes will be available only to those companies that have not reduced the number of their employees compared to December 2020.
Employers who have signed open-ended employment contracts with persons registered at the Employment Agency for more than three months by 31 December 2021 shall be exempted from income tax and pension and disability insurance contributions. The only condition employers in this category must fulfil is that the number of employees has risen compared to the number on December 31, 2020.
Employers will be eligible for exemptions from taxes and salary contribution charges up to the amount of the average gross salary in Montenegro in the previous year; 90 per cent of taxes and contributions for salaries paid in 2021, 60 per cent in 2022, and 30 per cent in 2023 for all the persons employed by the end of this year. /ibna