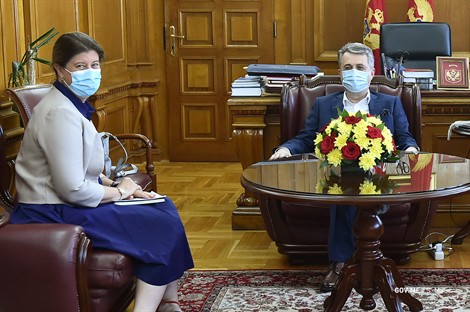 Montenegro and the United Kingdom are achieving quality cooperation between their police forces, with the intensive exchange of information in the fight against organized crime contributing significantly to its strengthening. The joint actions of the Montenegrin and British police, in which a significant amount of narcotics was seized, speak in favor of that, said the Minister of the Interior, Mevludin Nuhodžić, who received British Ambassador to Montenegro Alison Kemp in a farewell visit.
The Minister thanked Ambassador Kemp for her dedicated work and personal commitment to improving bilateral cooperation between the two countries, as well as strengthening Montenegro's overall capacity to respond to demands on its path to European integration. He pointed out the importance of the continuous support that Great Britain provides to the Ministry of Internal Affairs, especially in the direction of better technical equipment for the Criminal Police. He expressed special gratitude to the ambassador for her expert and financial assistance in the realization of projects in the fight against domestic violence and child marriages.
Ambassador Kemp thanked Minister Nuhodžić for the friendly reception during her term, and assessed that Montenegro has made significant progress in the area of ​​rule of law. She praised the transparency of the Ministry of Interior, as well as the intensity of cooperation with the civil sector. Furthermore, the ambassador confirmed the readiness of Great Britain to continue providing support for further improvement of the work of the Ministry of Internal Affairs and the Police Directorate in the field of combating all forms of crime.
The incoming British Ambassador, Karen Maddox, will arrive in Montenegro at the end of August. She will replace Alison Kemp.
Maddox has vast experience in diplomatic affairs, as she dealt with it mostly in Asian countries. In the period between 2017 and 2019, Ms Maddox served as consul general in the Chinese Guangzhou. Prior to that, she held the position of deputy consul general in Guangzhou. She also worked in Vietnam, Myanmar, South Korea, Mongolia and Pitcairn.
After 18 years of work in Asia, Maddox applied for the position of Ambassador to Montenegro, changing her career path. /ibna