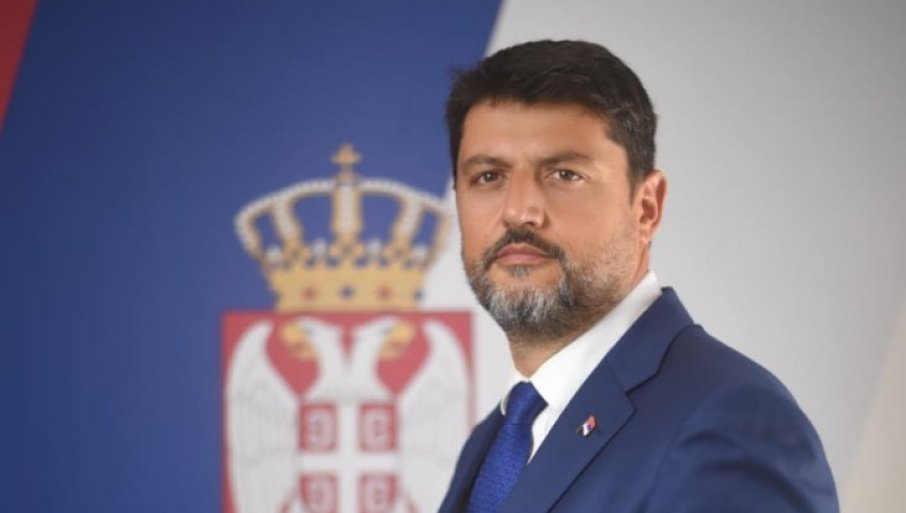 The Montenegrin Ministry of Foreign Affairs will not be revoking its decision on the expulsion of the Ambassador of Serbia to Montenegro Vladimir Božović, the Ministry announced today.
It is stated that the Ministry, as well as European Commissioner Oliver Varhelyi, welcome the decision of the Government of Serbia to withdraw the decision on the expulsion of the Ambassador of Montenegro to Serbia, as it was unfounded.
"Ambassador Tarzan Milošević represents his country by respecting Serbia, not interfering in its internal affairs, with restraint towards the host country, even when Montenegro is rudely insulted and humiliated and Montenegrin state symbols are desecrated on various Serbian streets, which is why various international institutions have reacted," the statement notes.
It is pointed out that, unlike Milošević, the Serbian ambassador to Montenegro continuously interfered in the internal affairs of the country in which he served.
"By his personal interpretations of history, by questioning the country's independence, he denied the Resolution of the Parliament of Montenegro on the illegitimate Parliament of Podgorica, despite the fact that it is known what the Parliament in-question represented in our history," the statement reads.
The Ministry recalls the numerous warnings sent out to Ambassador Božović several times, cautioning him regarding his illegal and undiplomatic behaviour towards the host country. "Unfortunately, in vain and without understanding."
"Therefore, this Government and this Ministry will not be withdrawing their decision, since the incomprehensible statement by Prime Minister Ana Brnabić actually underlines that Božović communicated indeed the official positions of the Government of Serbia, a confirmation of the continued gross interference in Montenegro's internal affairs," the Ministry notes in response.
It is estimated that, unfortunately, this time Varhelyi, before making the suggestion, failed to at least exchange basic information and opinions on the merits of the decision in-question with partners and friends in Montenegro, with whom he has discussed much more difficult and delicate issues in the region in the past.
"We believe that Varhelyi, especially as a politician and official coming from Hungary, a country with a heightened sensitivity to issues of this nature, would better understand our attitude towards the ambassador who continuously interferes in internal affairs and violates the national interests of the host country," the statement notes.
As it is stated, Montenegro is fully and truly committed to regional cooperation and good neighborly relations, which constitute not only a pillar of European integration, as Commissioner Varhelyi pointed out, but also a key element of its foreign policy, which it has been promoting in all bilateral and multilateral frameworks.
This, as underlined, is very well known to its European partners.
"Therefore, we are firmly convinced of the correctness of our decision, given that we cannot tolerate the humiliation of the Montenegrin state and national dignity by diplomatic representatives in our country," the statement concludes. /ibna