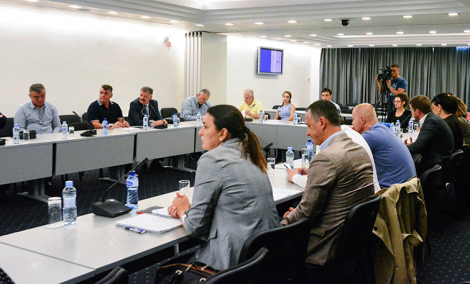 Growth in production and increased product placement were realized during the tourist season, which is a result of better connectivity between hoteliers and domestic food producers, the Chamber of Agriculture and Food Industry (PKCG) board announced.
The secretary of the Committee, Lidija Rmuš, who presented information on economic trends, said that the increase in production and increased product placement in the tourist season was partly the result of the realization of the projects Buy Domestic and Domestic Tastes.
"The tourist offer increasingly includes the traditional gastronomic offer of Montenegro when presenting our country," Rmuš said.
During the first eight months of this year, the purchase and sale of agricultural, forestry and fishery products amounted to EUR 23.4 million, and is at the same level as last year. By August, 16.1 million liters of milk were purchased, 3.4 percent less, but the production of all milk products increased, which has a positive effect on the financial results of this sector.
According to Monstat, PKCG said food production increased 4.6 percent in eight months and 8.9 percent in beverages.
During the session, it was assessed that the biggest problem faced by the agrarian was the lack of competitiveness of the product. That is why the goal of food producers is to increase the volume of production and the competitiveness of products, which can enable better placement of domestic products, and the business barriers they face in business need to be removed.
Speaking about the investments in agriculture that were completed in the current year, Rmuš said that the company "Naše voće" (Our Fruits) has established an apple plantation on 15 hectares in Župa – Nikšić, and plans to build a five-hectare cherry plantation and new apple plantations on an area of 15 ha, as well as the construction of a juice production facility.
"This production will have a significant impact on the substitution of apple imports," Rmuš added.
The processing plant with a capacity of about 60 thousand hams (prosciutto) is being built in the company Zrnozit, the construction of a new slaughterhouse in Mesopromet, and a meat processing plant is in the final stage.
She stated that it is significant that the water factory Bjelasica Rada started production again, and in Šavnik, within the company, Eko-per Diva, started a new bottling plant. A new 600-ton cold-storage in Plantaže has been put into operation.
In the first eight months, imports of agri-food products amounted to EUR 391 million, with exports amounting to EUR 28.2 million, so the export-import ratio was 7.2 percent. Imports grew by 6.4 percent from the same period last year, and exports are down six percent.
Committee Chairman Milutin Đuranović said that the drop in the coverage of imports by exports is worrying, because it is not insignificant, so in the coming period, they must work on strengthening the competitiveness even more.
Board member Amela Višnjić from Višnjić Commerce pointed to the problem of extremely high imports of eggs sold as domestic, which creates problems for business people.
Boris Čović from Bonesa advocated greater investment in technology because it is an expensive product and stressed the need to reduce and even eliminate protectionism in all industries.
Nikola Milošević from Eko-per Diva believes that it is necessary to be more active in selling domestic water in shops and hotels.
"We have to fight for at least 50 percent of the water in the shops to be domestic, which would increase our production by 20 percent," Milošević said.
He added that 70 percent of imported water is now being sold in stores, and only 30 percent is domestic.
In order to eliminate the constraints that entrepreneurs face in business, it is necessary to work on the amendment of several normative acts that regulate their business. These are laws on companies, labor, excise duties, value-added tax, debt collection, and fiscalisation.
At the session, it was assessed that the implementation of the national campaign for the purchase of domestic products should be continued with the aim of raising consumer awareness and creating an environment for better positioning of Montenegrin products, which will directly contribute to the reduction of imports./ibna