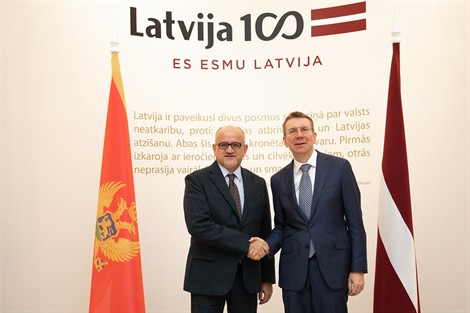 Montenegrin Minister of Foreign Affairs Srđan Darmanović paid a working visit to the Republic of Latvia, where he met with Latvian Foreign Minister Edgars Rinkēvičs. During his visit, the Montenegrin Foreign Minister opened the Consulate of Montenegro in Riga, headed by the Honorary Consul.
"The meeting assessed that Montenegro and Latvia have friendly relations, strengthened by the Alliance within NATO, as well as by common European values", said the Montenegrin Ministry of Foreign Affairs.
Minister Darmanović said that Montenegro and Latvia have similarities, especially through the historic struggle for independence and the preservation of national identity.
"Today, we are strengthening political dialogue at the highest level and looking for opportunities to enhance cooperation in the areas of economy, education, transport," Minister Darmanović said.
Minister Rinkēvičs said that Latvia strongly supports the EU enlargement policy, as well as the opening of the last chapter in Montenegro's negotiations with the Union. In this context, he stressed that visible progress has been made and that Montenegro can count on continued support from Latvian experts.
The two officials exchanged views on the current situation in the region and globally, as well as on the challenges in countering hybrid threats.
During his visit to Latvia, Minister Darmanović opened the Consulate of Montenegro in Riga.
At the ceremony, Minister Darmanović said that the first diplomatic mission of Montenegro in Latvia would contribute to strengthening the ties between the two friendly and allied countries.
"The Consulate's activities will be aimed at strengthening cultural ties and tourism cooperation with the aim of promoting our culture, art and tradition", Darmanović highlighted.
Latvian Minister of Transport Tālis Linkaits also spoke at the ceremony, saying that Montenegro and Latvia are two small countries and proud nations that share a similar historical destiny and foreign policy commitments – NATO and EU membership.
Minister Darmanović also visited the Camp Ādaži military base today, where he spoke with Montenegrin troops deployed as part of the NATO enhanced Forward Presence battle group in Latvia.
The engagement of Montenegrin troops is estimated to be an indicator of solidarity among the Allies and a contribution to regional security./ibna