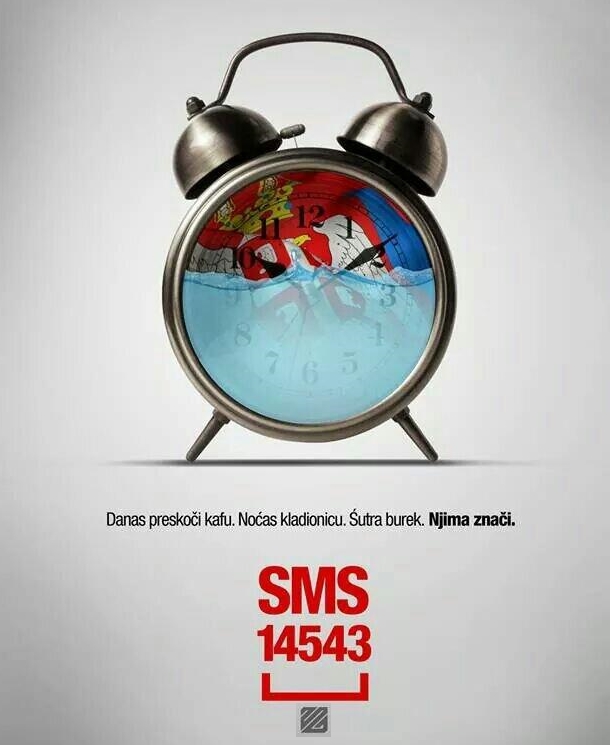 By Adnan Prekic – Podgorica
The major floods in Serbia and Bosnia and Herzegovina have once again united the region. Citizens, institutions and entrepreneurs in Montenegro have organized and collected a huge help to vulnerable residents of Serbia and Bosnia and Hercegovina. Helplines that are open allow people to donate money to help purchase food and clothing to vulnerable areas. So far citizens, through text messages, have collected about 100,000 euros. Help also came from the Montenegrin army and police.
A huge response action to help residents of Serbia and Bosnia and Herzegovina, who were hit by the flood, reaffirmed the humane nature of the Montenegrin nation. The floods in these two countries reminded many Montenegrins, how people from other former Yugoslav republics had helped Montenegro during the great earthquake in 1979. An  organized action for help has been launched by the Red Cross, but many citizens havethemselves organised similar actions through social networks in order to collect money and food for the affected areas.
About 200 volunteers from all over Montenegro with four buses went to Serbia, to help the flood victims. About 600 volunteers signed up to go and help, but there was no time to arrange transport for so many people. Assistance was also provided by fire organizations from Montenegro. Firefighters from Bijelo Polje, Cetinje, Bar and Podgorica are helping their colleagues from Serbia and are now located in the vicinity of Sabac.
The Directorate of Emergency situation of Montenegro has prepared two trucks with blankets, rain slickers and sleeping bags. Divers and alpinists of the Special Antiterrorist police unit of Montenegro traveled to Serbia and joined the rescue operation in the Obrenovc area. Ministry of Defense of Montenegro sent a group of soldiers to Serbia in the surroundings of Obrenovc. They are engaged in saving the lives of citizens and in the protection of property in areas that are vulnerable to flooding.
The national airline company Montenegro Airlines in cooperation with the Ministry of Health of Montenegro and institututima "Dr Simo Milosevic" in Igalo, joined the action to help people vulnerable to floods. The national airline will provide all injured persons free air transportation, while the Ministry of Health of  Montenegro will provide complete medical treatment at the Institute for Rehabilitation in Igalo.
Six trucks of humanitarian aid were sent to Serbia and Bosnia and Herzegovina as assistance to the population affected by the catastrophic floods. Four trucks of humanitarian aid were sent to Serbia and two in Bosnia and Herzegovina. Many companies in Montenegro have paid thousands of euros as aid to disadvantaged areas in addition to the 100,000 euros collected by citizens through text messages.