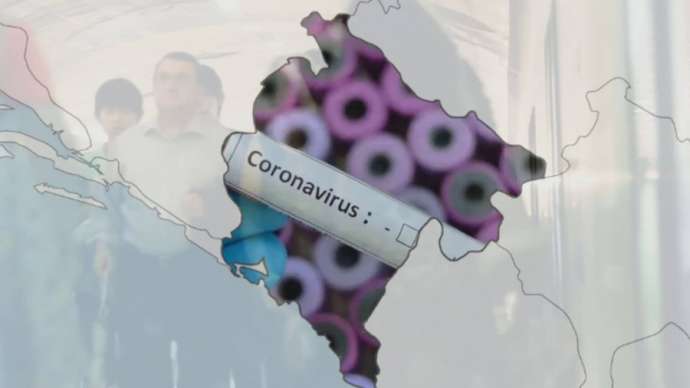 The first death from COVID-19 complications was confirmed in Montenegro late last night. According to a joint statement by the Institute of Public Health and the Clinical Center of Montenegro, the deceased was a 65-year-old man who suffered from chronic lung disease.
Clinical Center Director Jevto Eraković announced that the first coronavirus-related death in Montenegro involved a 65-year-old man from Herceg Novi, who was admitted to the Clinical Center for chronic lung disease treatment last night.
The swab sample was taken after the patient was admitted at the Clinical Center. Analyses confirmed that the patient had been infected from COVID-19. The citizen in-question was residing in Serbia in the first half of March.
"This was a 65-year-old Montenegrin citizen old from Herceg Novi. He was transferred to the Clinical Center of Montenegro early in the morning and died shortly after. All protocols that were activated during his short hospitalization in the Clinical Center of Montenegro unfortunately were not enough to save the patient. The Clinical Center staff, as I noted, did everything in their power; they used all necessary protective equipment and followed all procedures provided for the treatment of COVID-19 patients", said Eraković.
Meanwhile, people in Montenegro are gradually getting adjusted to the new situation, as remote education via TV broadcasting kicks off. The aim of this "distance learning" is for pupils to keep up with their education and for the school year not to be wasted.
Media coverage around the project completed by the education system reports that more than 300 courses have been recorded in only a few days with the participation of 100 teachers, which will be broadcasted by three TV channels while also being available on e-platforms. This new form of teaching was launched today and is titled UčiDoma (Study at home). This project provides for the broadcasting of multimedium material in 14 subjects. Lessons will be broadcasted by three TV channels – TVCG 2, MNE Sport and MNE Sport 2, which are now called "Study at home" channels.
As Minister of Education Mr. Damir Šehović pointed out, the material will be available on the "UčiDoma" YouTube channel, securing its practicality and accessibility. /ibna