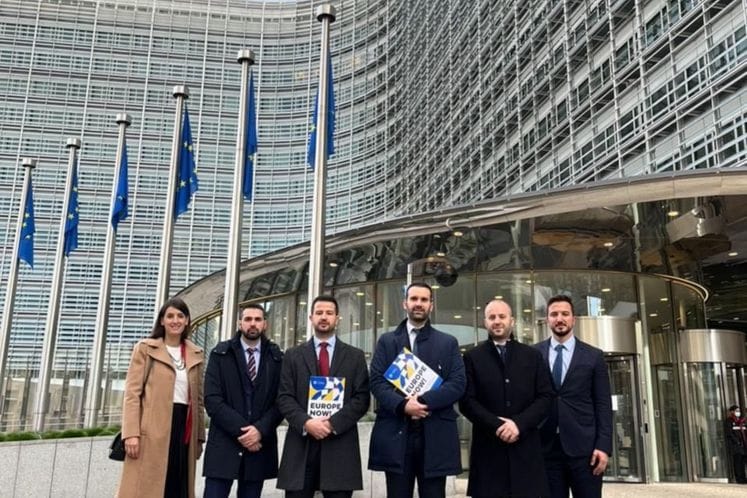 The Minister of Economic Development and the Minister of Finance and Social Welfare in the Government of Montenegro, Jakov Milatović and Milojko Spajić, held a meeting today in Brussels with the European Commissioner for Economy Paolo Gentiloni, during which the Montenegrin delegation received strong support for development projects, which include, among other things, one of the key reforms in Montenegro, "Europe Now".
"We started our visit to Brussels with the former Prime Minister of Italy and the current Commissioner for Economy within the European Commission, Mr Paolo Gentiloni. He was very pleased with the achievements we presented to him regarding the economic recovery in Montenegro and a large part of the structural reforms that we have managed to implement in the past 10 months. Also, the meeting was a good opportunity to discuss the very ambitious plans that this Government has for the coming period. We presented the program "Europe Now" and received strong support," Milatović said after the meeting.
The goal of the "Europe Now" program is to ensure the dominance of social justice and a better standard of living for all Montenegrin citizens through a set of tax policies.
"The Europe Now project has received support from Commissioner Gentiloni and we are glad that he has even offered concrete things, such as technical support from his directorates. We are returning to Montenegro with some concrete things from Brussels," Spajic said. after the meeting.
As he stated, they also received praise for their approach in building a political consensus on this issue.
Spajić also emphasized that the citizens of Montenegro are very satisfied with the announced reforms and that his entire team received great support in constant communication. According to him, a strong message is being sent to the citizens and the parliamentary majority, which they must not ignore.
The Commissioner for Economy, Paolo Gentiloni, praised Montenegro's efforts to stabilize public finances. He said that it was a great challenge for the authorities in Montenegro to adequately respond to the decline in economic activity, which was the largest in Europe in 2020, and stressed the importance of support measures adopted by the Government of Montenegro to help businesses and citizens, which greatly influenced the recovery of the tourism industry. The Commissioner also expressed support for the Government of Montenegro on the path of European integration.
In addition to this, Ministers Milatović and Spajić will hold a series of meetings with representatives of European institutions to discuss the plan for the future development of Montenegro.