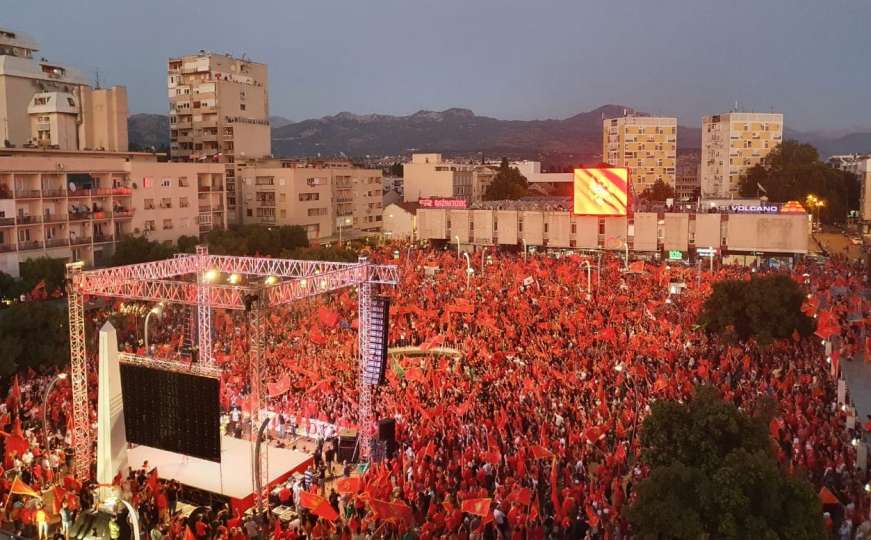 Last night, Montenegro experienced an unprecedented moment across Europe and the world: the losers in the elections celebrated their own defeat, as the Socialist People's Party of Montenegro alleges.
"They "defended" Montenegro from those who achieved an incredible victory in the elections, pure as gold. As they say, they defended it from us who will now "take Montenegro to Serbia". If it wasn't sad, it would be funny. Thank you to our supporters who stayed in their homes and did not provoke the "celebrants" with any reactions, among whom were those who destroyed Montenegro, such as: Blažo Đukanović, Verica Maraš, but also some ministers, such as Nikola Janovic and Milutin Simovic. Last night they defended not Montenegro but their millions, the hydroelectric power plants, companies, banks and business premises, salaries of 8,000 euros, etc. The citizens know that well, that's why they received a big NO in the elections", SNP states.
They further add that the president of the National Coordination Body for Infectious Diseases even got involved in this gathering, even though the NCBID cautioned that a maximum of one hundred people could gather in the open.
"We saw last night how much they respect the measures they themselves introduce. Last night's rally was high-risk when it came to spreading the virus, and the days ahead will show it. Nonetheless, when it comes to defending the state from those who call them Chetniks, all measures can be ignored. Although we knew for a while now that this Body was dying out, last night we received an official confirmation of that", they point out in the SNP.
The SNP called on the Police Administration to disclose the names of the persons who asked for permission for last night's gathering and are responsible for violating a number of measures and recommendations, while also demanding an explanation as on why the police were not as prompt in preventing this gathering as they were during the processions held in protest of the shameful Law on Freedom of Religion.
"We ask the competent institutions to take a stand as soon as possible towards those responsible for last night's gathering, to bring in all those who violated the NKT measures and the positive regulations of this country, and to bring all the culprits to informational talks — such as those committed, without any reservations, against priests and free citizens of Montenegro", the SNP continues.
Several thousands DPS partisans alongside Montenegro president Milo Đukanović gathered last night at the main square in Podgorica in support of the DPS policies and, as they said, in protest of Montenegro's approach to Serbia. /ibna