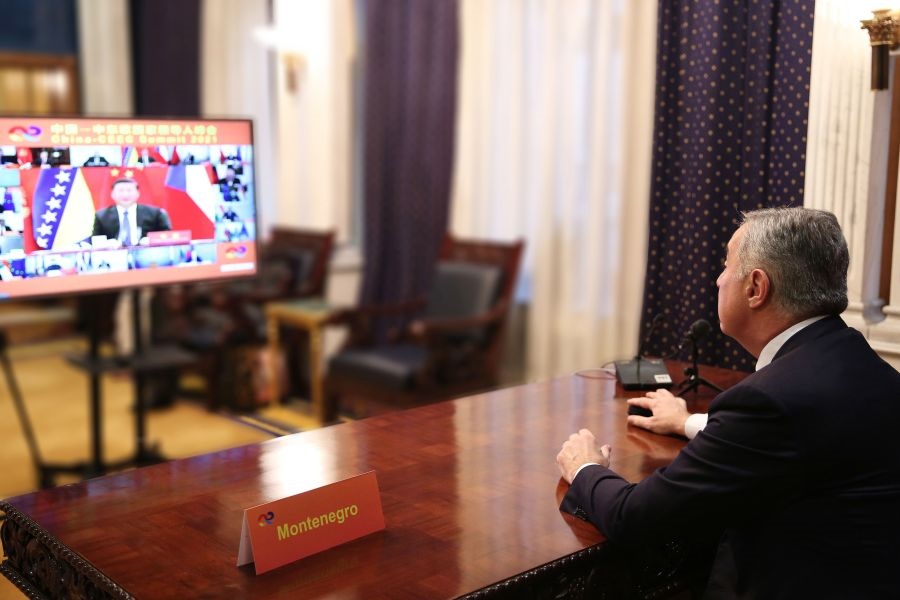 Montenegrin President Milo Đukanović said on Tuesday that "Montenegro's path is well known" and that the country is moving step-by-step towards its full integration into the European Union with which it shares common values.
Đukanović attended the China-Central and Eastern Europe (CEEC) Summit (17+1) held virtually due to the coronavirus pandemic. In his address, he said that Montenegro, as an open and friendly country, seeks to render cooperation with the People's Republic of China more practical through the opportunities provided by the 17+1 mechanism and to achieve concrete results in areas of common interest.
He recalled that this year Montenegro and China mark 15 years since the establishment of diplomatic relations.
"The friendship between our two countries is constantly improving. Our cooperation has been further strengthened in many areas through the 17+1 mechanism which recently incorporated the fight against COVID-19 and other pandemic viruses," Đukanović said.
Đukanović expressed Montenegro's gratitude to China for donating medical aid in the fight against the pandemic.
"On the other hand, within its capabilities, Montenegro had donated aid to China for the same purpose. Once again, the friendship between Montenegro and China, the Montenegrin and Chinese people, proved to be strongest in the most difficult moments. I am convinced that we will continue to create opportunities of mutual interest and contribute to strengthening our understanding and friendship," Đukanović stated.
As he said, Montenegro's wish is "to strengthen cooperation in the economy, energy, transport connections and tourism, sector while respecting the principles of sustainable development."
"Although we are the smallest of the countries participating in the Mechanism, we have extremely large development potentials that we want to valorise in cooperation with credible Chinese partners. Therefore, Montenegro will support the proposed list of activities for cooperation between China and Central and Eastern European countries in 2021. A few days ago, I had the opportunity to address Chinese companies interested in cooperation with Montenegro. Attentively heeding their interests, it became clear that there is a desire to continue cooperation on the construction of the highway through Montenegro to the port of Bar, as well as the development of logistics and industrial zones in its vicinity. Such a project would give a strong impetus to a faster economic recovery in the post-pandemic era and better connect Montenegro with neighbouring and overseas countries," Đukanović said.
Through strengthening cooperation with Chinese institutions and companies, Montenegro, seeks to increase the export of its high quality products to the Chinese market, Đukanović explained.
"We want to increase the exchange of students, artists, scientists and cultural workers; to dynamize tourism cooperation and through the 17+1 Coordination Mechanism for the Environment to create conditions for the concrete implementation of environmental and innovative solutions based on the latest technology," Đukanović concluded. /ibna